LATEST NEWS

The Province - June 4 2010

Hagerty's Operation Ignite
These kid judges don't wear kid gloves
By Andrew McCredie

Read full article PDF file.
---
Business In Vancouver - May 2010

Auto Emissions
For most classic-car owners, purchase are about nostalgia
By Dave Kinney

Read full article PDF file.
---
Canadian Driver article

2010 Vancouver All British Field Meet
By Paul Williams; photos by Paul Williams and Greg Wilson
---
Flickr Photostream, photos © Paul Duchene
British Field Meet, Vancouver May 22, 2010 Photos copyright Paul Duchene
---
ABFM In The New York Times

Wheels: A Show Celebrating Classic British Cars in Vancouver
By PAUL DUCHENE
Published: May 26, 2010

The All British Field Meet in Vancouver brought out nearly 700 British cars, from ACs to Wolseleys.

http://wheels.blogs.nytimes.com/2010/05/26/a-show-celebrating-classic-british-cars-in-vancouver/
---
Vancouver ABFM Video

The first in the Classic Car Adventures video series, we check out a few of the highlights, including an AC Ace, 1934 Aston Martin Ulster, and a Jaguar E-Type.



2010 Vancouver All British Field Meet from Warwick Patterson on Vimeo.
---
25th Annual All British Field Meet – Vancouver, BC, Van Dusen Botanical Gardens

Photos by Lindsay Dianne
http://runningscared.ca/UrbanMomtographer/?p=853
---
WINNING NUMBER FOR THE 2010 GRAND PRIZE TRIP FOR TWO TO HAIDA GWAII SPONSORED BY WESTCOAST RESORT IS ……………………………576……………………………
To claim your prize, please contact jstewart@westerndriver.com or call (604) 736-6754 during office hours.
---
What Is Your Favorite Car From Vancouver's All-British Field Meet?


---
British Classic Car Show VanDusen unveils 2010 Silver Anniversary Poster Artwork

Vancouver artist Michael Stockdale has unveiled his stunning work of art for this years Greatest Show on British Wheels official poster.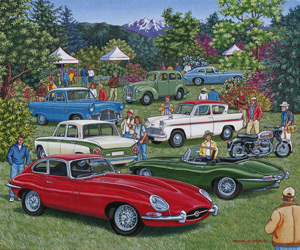 The work depict eight classics in the lush colourful surroundings of VanDusen Botanical Garden The 1950's and '60's classics represent this years featured marques of E-Type Jaguar, English Ford and BSA motorcycles.

Click here for high-res image.


The 20" X 24" acrylic took over a month to complete and true to Stockdale's style captures the character of each vehicle with accurate detail reflecting the artist's love and extensive knowledge of classic cars.

This years magnificent painting completes a series of six commissioned specifically for the British Classic Car Show otherwise known as the All British Field Meet and often referred to as The Greatest Show on British Wheels. This year's artwork is of particular significant since it will become part of the shows silver anniversary

The annual show is produced by the Olde British & Classic Car Society, which encourages the appreciation, understanding and preservation of classic cars, vehicles and motorcycles for the enjoyment of their owners and the general public.

The one day event will be held Saturday May 22, 2010 VanDusen Garden Vancouver B.C Canada. More details on the show at www.westerndriver.com/abfm For purchase enquiries of this collectable poster artwork please contact the artist directly michaelpaints@hotmail.com

---
All British Classic Car Show ABFM 2010 Welcomes Hagerty Collector Car Insurance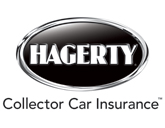 Hagerty Collector Car Insurance, the world's leading provider of collector vehicle insurance will be on site to present a series of seminars called "Cars That Matter " - focusing on the past 25 years of British classic car values – on the Great Lawn at VanDusen Garden at this year's show May 22. This series is no cost to show attendants and will run at scheduled intervals throughout the day.

"We are very pleased to have Hagerty Collector Car Insurance as a sponsoring partner for this informative feature of the show" said Patrick Stewart event co-chair.

"Part of our mandate is to inform and educate the general public about the collector car hobby and Hagerty have a very impressive track record in this respect." Added Stewart.

The Cars That Matter sessions will be conducted by Dave Kinney, arguably one of North Americas most knowledgeable collector car experts. Kinney is a member of the American Society of Appraisers and has over thirty-five years experience in various aspects of the special interest, antique, classic and production vehicle areas of the market.

In addition to the Hagerty's Cars That Matter series Hagerty will be encouraging Vancouver's youth to get involved at the show through their Operation Ignite! Connecting Kids with Cars initative by hosting their signature Youth Judging Program. A joint initiative with the ABFM to help ensure the future of the collector vehicle hobby, young people under the age of 18 will have the opportunity to learn about the basics of judging a cross section of classics on the field including those cars entered in the Young Timers class for owners under the age of 25.

The youth program will be conducted by Tabetha Salsbury, Hagerty's Youth Program coordinator who has a degree in Automotive Restoration from McPherson College, McPherson Kansa. Parents and Grandparents of young people seventeen and under should contact show organisers to reserve a place for their young enthusiasts in this interesting free program.

"In addition to our recent announcement of offering Collector Car Insurance to Canadian markets we are eager to share our other resources with car enthusiasts in Canada", says McKeel Hagerty, CEO of Hagerty Insurance.

"Dave Kinney's expertise with collector car values and our Youth Judging program provides reasons the entire family can take away valuable insights from the show."

Hagerty's Operation Ignite! "Connecting Kids with Cars" is a suite of programs designed to grow the interest of the hobby among young people through interactive events including Youth Judging, Young Designers Contest, Scale Model-building Contest, Kid friendly Car Show Kit, Motorsport Paddock Tours and a youth -oriented website. Through these programs, young people will gain hands-on experience that will increase the education of and enthusiasm for collector automobiles, boats and tractors.

For further information on Operation Ignite please contact Tabetha Salsbury tsalsbury@hagerty.com

The British Classic Car Show ABFM 2010 is an annual event celebrating twenty five years. The show takes place Saturday May 22 VanDusen Botanical Garden Vancouver. Owners of British built cars and motorcycles are encouraged to display their vehicles to the viewing public. The one day event goes from 10.00am to 4.30pm with tickets sold at the gate. For more details please call 604 736 6754.

---
It's a Silver Anniversary event for Canada's Biggest British Classic Car Show.

The Greatest Show On British Wheels Announces Featured Marques for 2010 Event

The E-Type Jaguar, which turns 50 years old and is arguable one of the world greatest sports cars, will be celebrated at this year's All British Field Meet at VanDusen Garden Vancouver British Columbia.

Jaguar owners and enthusiasts are expected to gather in record numbers at the annual event which this year celebrates its 25th anniversary.

"We are anticipating some reaction to the 50th anniversary of the E-Type since it is strictly only 49 years since the introduction of the production model in Geneva 1961," commented Patrick Stewart, event co-chair. "However we have chosen to mark the 50th this year by recognizing the first public appearance of the E2A in prototype form at LeMans June 1960."

The world's most famous E-Type E2A survived it's early racing and testing days to be sold in 2008 at auction for $4,957,000, a record amount paid for any Jaguar.

The magnificent design of the E-type was well ahead of its time, featuring long flowing lines, beautiful curves and a low slung body, giving a sense of motion that has seduced owners and admirers over the past half century. Between 1961 and 1975 more than 72,000 cars were built, with the majority exported to the USA and Canada. Expect to see a record number on display at the VanDusen show Saturday May 22, 2010.

In addition to the Jaguar E-Type, the all British show will feature English-built Fords as one of the show's three featured marques. The most common models expected to show are Ford Prefects, Populars, Zephyrs, Anglias and Cortinas. In 1950, Ford was the best selling import car in Canada and the USA. Between 1948 and 1970 approximately 250,000 English Fords were sold to the USA, and more than 235,000 into Canada by 1973.

In two-wheel class, the show will feature 100 years of BSA motorcycles with plans for a record display including motorcycles under restoration presented by the British Motorcycles Owners Club of B.C. (BMOC). Interest in classic and vintage motorcycles has soared in the past few years and prices have reflected this trend. Expect to see a line- up of Nortons. Royal Enfields, Velocettes, AJS, Matchless, Triumphs, Francis-Barnetts and a good number of BSA models.

The annual walk down memory lane promises over 600 classic cars and motorcycles displayed in the beautiful surroundings of VanDusen Botanical Garden. Adding to the automotive splendour will be the brass band music of Little Mountain Brass Band plus classic car parts for sale, a food concession and vendors offering all things British.

The event is produced by the Olde British &Classic car Society, which encourages the understanding, appreciation and preservation of classic cars, vehicles and motorcycles for the enjoyment of their owners and the general public.

For more details please call 604 736 6754.