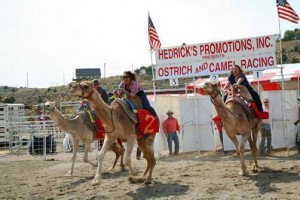 Nevada knows racing. All types of racing. There are some involving vehicles, but there are some quirky ones that include outhouses, zombies, camels and ostriches.
International Camel & Ostrich Races, Sept. 9-11, Virginia City
Now in its 57th year, these races started as a practical joke by a reporter.
In 1959, Nevada-based newspaper the Territorial Enterprise announced that a camel race would take place in Virginia City. Another big-city newspaper reprinted the fictitious story, believing it was real. But the idea gained traction and an actual race occurred in 1960.
Camels were once used as service animals in Nevada's mines. Now, some are the stars in the International Camel & Ostrich Races¸ as novice jockeys desperately try to race them around Virginia City Arena and Fairgrounds and cross the finish line.
Ostrich, emu and zebra racing has also been a part of this quirky event.
Director John Huston, in the area in 1960 to film The Misfits, won the first International Camel Races.
Virginia City is about 41 kilometres south of Reno.
Human Powered Speed Challenge, Sept. 12-17, Battle Mountain
There are cycling races and there is the super-charged Human Powered Speed Challenge in Battle Mountain. Here, speed matters as cyclists race against the clock to try and break the world speed record for a recumbent bicycle. Last year the new record was set at a remarkable 139.45 km/hr.
Conditions for this event are perfect. Nevada Route 305 is almost flat—less than one per cent grade and contestants from around the world get into space pod-like, aerodynamic cycles and head to a 200-metre section of the highway to be recorded.
The Challenge, which is expected to draw 23 to 25 competitors this year, attracts teams from all over the world.
Battle Mountain is about 350 kilometres east of Reno on Interstate 80.
National Championship Air Races, Sept. 14-18, Reno
 You have to look up, way up, for this one. High-performance aircraft race on circular tracks at this event, the only one of its kind in the country. The annual National Championship Air Races routinely draws upwards of 150,000 spectators to see pilots race in six categories, including the unlimited class, in which air speeds often exceed 800 kilometres per hour.
Between races, there are air shows and flight demonstrations, and attendees also can view displays of static aircraft. The Air Races are in Reno, in the community of Stead.
World Championship Outhouse Races, Oct. 1-2, Virginia City
Outhouses on wheels, pushed by teams with names like Sport A Potty and Commando Commode, race on the main street of historical Virginia City in this crapshoot of an event.
As random as it may sound, the Outhouse Races do have a historical basis: according to the Virginia City Tourism Commission website, it marks a moment in history when townspeople took their outhouses to the streets and marched to city hall to protest new ordinances that outlawed outdoor toilets.
The race is open to the public — registration closes Sept. 28 — but it's not for the fainthearted. Teams have to put together a functional outhouse that is at least 1.8-metres tall, not including chimneys or flags, among other requirements. Steering and brakes are optional.
Bed Races in Beatty, part of Beatty Days, Oct. 28-30, Beatty
Beds on wheels, pushed by five-person teams, are raced up and down a hilly street in Beatty as part of Beatty Days, Oct. 28-30, 2016.
The annual event also includes a root beer drinking-and-belching contest for children; a Pickle Liquor Hoot-N-Holler competition (you drink pickle juice and hot sauce and then yell; the loudest yeller wins); and Chicken Bingo, in which a numbered panel is laid out, you bet on a number, you let chickens run on the panel, and … you can imagine the rest.
Beatty Days has more traditional events, such as a chili cook-off and a car show, but the Bed Race is something of a sleeper hit.