London, England—David Brown Automotive has unveiled its unique handcrafted GT car.
This highly anticipated new car, which is designed, engineered and hand-crafted in Britain, will be called Speedback: a name chosen to reflect the lines of this V8-powered sports coupé. 
Speedback will travel to Monaco to be shown publicly for the first time at the exclusive Top Marques show, which runs at the Grimaldi Forum from April 17-20, 2014, where a David Brown team will be available to discuss the car, its specifications and to take orders during the event. 
Company founder and CEO, David Brown has a long-standing background in engineering, vehicle manufacturing and an equally strong enthusiasm for both classic and contemporary cars (although he has no connection with either Aston Martin, its founder, Sir David Brown, or with the David Brown Group). With his concept for a classically styled GT car with modern mechanicals and reliability, he began to assemble his specialist team some two years ago. 
"The launch of Speedback is the realization of a dream for me, and is the result of skillful and dedicated work by a team of highly talented designers, engineers and craftsmen," said Brown. "I am delighted at the reaction of the media, our suppliers, potential customers and friends, and I look forward to presenting the car to the public in Monaco.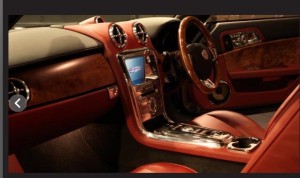 "The Speedback name perfectly reflects the classic sports car tradition of the past, whilst also doing justice to the sophisticated silhouette of the car's hand-built body and unique styling which features amongst much other detail, a fold-down picnic seat." 
The car is the result of 18 months of hard work by the David Brown Automotive team, including highly experienced chief designer, Alan Mobberley.
The Speedback, which has been engineered and handcrafted in Coventry, uses traditional British materials and craftsmanship. Speedback promises exceptional performance and handling from the latest Jaguar 5-litre supercharged engine.
Customers of Speedback are able to request any level of tuning or engine enhancements they desire.
"This car will appeal to anybody who desires a truly individual sports car, which can boast a fine British pedigree and which will only be produced in limited numbers, thus ensuring the kind of exclusivity associated with Britain's once proud heritage of traditional, high-quality, automotive coach- building", said Brown.
You can join the conversation on Twitter and Facebook using #HistoryInTheMaking.