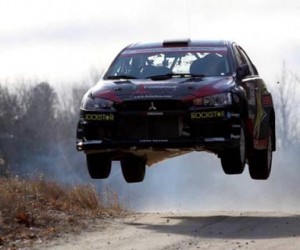 Quebec driver Antoine L'Estage (of St-Jean-sur-Richelieu) and his co-driver Nathalie Richard (of Halifax, Nova Scotia) completed the 2012 North American Rally Cup and the Canadian Rally Championship with a second-place finish at the Rally of the Tall Pines on November 25.
Antoine L'Estage and Nathalie Richard, 2012 champions. Photo: Maxime Poirier.
The pair were bested by Pat Richard (Squamish, BC) and Alan Ockwell (Toronto) of Subaru Rally Team Canada who claimed victory. The event was not simple for Richard and Ockwell who, in a battle for the lead, suffered two flat tires and brake damage that caused a fire. Despite these problems on the final three stages the Subaru team pressed on and made it to the finish and earned the top spot on the podium.
However, the podium finish for L'Estage and Richard, combined with four victories and another second place earlier this year, confirmed their 2012 Canadian and North American rally championship titles.
"We immediately took a healthy lead by winning the first six stages of the rally and were about a minute ahead when we had our problem in the rear right, costing us 40 seconds," said L'Estage. "We were confident when we left for the last loop of three stages. Unfortunately, we made a bad tire choice and suffered a puncture early in the first 32-kilometre stage, which caused us to lose a lot of time when we stopped to change it in the dark."
L'Estage holds five North American championship titles (2007, 2008, 2010, 2011, 2012), five Canadian titles (2006, 2007, 2010, 2011, 2012), one American title (2010), and thirty-seven overall victories in Canada and the US. Nathalie Richard holds eight overall national championship titles (2004, 2007, 2010, 2011, 2012 in Canada and 2004, 2005, 2010 in the US), as well as forty-three overall rally wins on both sides of the border. She also holds a record eight North American Co-Driving Championship titles (2004 – 2012, excluding 2006).
2013: Rallye Perce-Neige and a new calendar
The curtain falls on 55th Canadian Rally Championship but the next season is only two months away. Rally teams will reconvene in Maniwaki, Quebec, 150 kilometres north of Ottawa for the 48th running of Rallye Perce-Neige.
The 2013 calendar will feature six events but the complexion changes with the second event, Rocky Mountain Rally heading to Invermere, British-Columbia and now being staged in November instead of May.
For more information, visit www.rallyeperceneige.com or the governing body at www.carsrally.com.