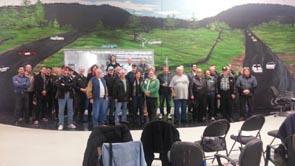 The legendary Westwood Racing Circuit has being immortalized in the form of a giant mural that adorns a wall at Mark's Auto Body in Coquitlam, B.C.
Former Westwood racers at the unveiling of the giant mural.
The mural measures 30 by 60 feet and honours the glory days of this historic racing venue.
The unveiling of the mural took place on November 13 at Mark's Auto Body, with many former Westwood racers from the Vintage Racing Club of BC in attedance.
"The mural was done by friend and ever-talented artist Patrick Golding of Golding Arts," said Dino Milacic of Mark's Auto Body. "We felt it appropriate to host a formal ceremony to officially unveil the Westwood mural."
Westwood Motorsport Park opened in 1959 in Coquitlam, B.C., and was Canada's first purpose-built racetrack. The venue played host to a multitude of racing series, such as the Formula Atlantic Series, Trans-Am Series and Player's GM Challenge Series.
Racing greats such as Mario Andretti, Bobby Rahal and Gilles Villeneuve all raced the track during its 31-year tenure. Local stars Ross Bentley, Frank Allers and Tony Morris Jr also raced at the track.
Sadly, the track, which was located on leased provincial crown land, eventually fell victim to urban development. The track finally closed in 1990 to make way for the Westwood Plateau housing development and the Westwood Plateau Golf & Country Club.
Visit Mark's Auto Body at 2031 Lougheed Hwy, Port Coquitlam, BC to view the mural.