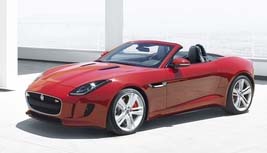 The F-TYPE, an all-new, two-seater Jaguar sports car has been unveiled in Paris in front of the dramatic setting of the 18th century Musée Rodin.
The new Jaguar F-TYPE represents a return to the company's heartland: a two-seater, convertible sports car focused on delivering performance, agility and maximum driver reward.
Three models will be available – F-TYPE, F-TYPE S and the F-TYPE V8 S. They are powered, respectively, by Jaguar's new 3.0-litre V6 supercharged petrol engine in 340PS and 380PS outputs and its 5.0-litre V8 supercharged petrol producing 495PS.
Visually, the F-TYPE's exterior demonstrates a new sports car design language for Jaguar, with cleaner lines delivered through the discreet use of technology such as deployable spoiler and door handles.
"Jaguar is a founder member of the sports car segment with a rich sporting bloodline stretching over 75 years, and in the F-TYPE we've reignited that flame," said Adrian Hallmark, Global Brand Director, Jaguar.  "The F-TYPE isn't designed to be like anyone else's sports car. It's a Jaguar sports car – ultra-precise, powerful, sensual and, most of all, it feels alive."
Following the reveal, singer Lana Del Rey took to the stage and performed a new track 'Burning Desire', that she has written as part of her collaboration with F-TYPE. The track is confirmed to be the sound track to a short film that is being produced in association with Ridley Scott Associates and will feature on her new album.