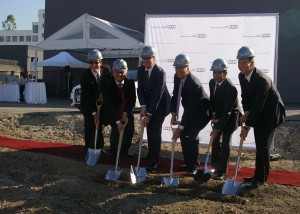 Wolfgang Hoffmann, president Audi Canada, joined Ajay Dilawri, president of the Dilawri Group of Companies and Mayor Gregor Robertson on September 20, 2012, to celebrate the official start of construction on the new Audi Downtown in Vancouver.
Located at 1820 Burrard Street, the expansive 56,000-square-foot facility will house a state-of-the-art Audi sales and service centre situated on one of Vancouver's most prominent streets.
The building is slated for completion in the fall of 2013.
The dealership will incorporate Audi's new terminal design concept, which represents the brand essence of "Vorsprung durch Technik", meaning "advancement through technology". Combined with the values of sporty, progressive and sophistication, the building will feature key Audi design aesthetics including aluminum, asymmetry and transparency, represented with expansive windows and a high proportion of white space.
The new dealership represents a $25-million investment by the Dilawri Group of Companies. Plans for the new building were developed by Kasian Architecture with construction management from Ledcor.
"We're very excited to start construction on this spectacular new project which, once completed, will become a new Vancouver landmark," said Ajay Dilawri, president of the Dilawri Group of Companies. "The design of this facility has been carefully crafted to not only complement the Audi brand, but also Vancouver's reputation as one of the most beautiful cities in the world."
Attendees at the Audi Downtown groundbreaking ceremony included representatives from Audi Canada, the Dilawri Group of Companies, the City of Vancouver and the local business community.