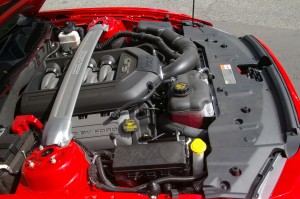 Driving the latest model cars every week can numb the senses to the things the average car buyer might find refreshing, so it was a new experience to have a ride along with a car enthusiast who enjoys driving high-performance European forms of transport.
A three-week press car schedule made up of Ford's third-oldest nameplate, the iconic Mustang, which included three Mustangs—V6 convertible, GT coupe and the high-performance Boss 302—provided the perfect opportunity to introduce my friend to a high-performance North American car.
We chose the Boss for the ride, and while he approved of the overall aggressiveness and well-proportioned lines of the car, he was not impressed with the school-bus yellow paint job, and even less excited about the black hockey stick decals.
"Too much bulk and not enough refinement," he commented.
"Now, John, you have to understand the automotive history and North American cultural history of the Mustang," I replied.
That history and heritage goes back to 1969 when Ford Motor Company wanted to "Win races and sells cars." The mandate was to inject performance into the successful Mustang model range. Ford engineers combined a four-bolt main Windsor small-block with reworked heads from the then-new 351 Cleveland engine. Added to this was a forged steel crankshaft, connecting rods and pistons that resulted in a free-breathing, high-revving powerplant pushing 290-plus horsepower.
To handle all this additional power a stiffened chassis, stiffer springs and shocks and a special tuned sway-bar completed the reworked mechanicals, making the 1969 Boss Mustang the fastest ever to lap the Ford test track at that time.
The 1969-1970 Trans-Am racing championship series was the brass ring of motorsport in North America and Ford was determined to dominate the series. With the help of race car driver Parnelli Jones, the Boss Mustang moved to the winners podium in 1970, surpassing arch rival Chevrolet.
Just like the famous-named Euro brands—Ferrari, Aston Martin, Jaguar and others—success on the race track translated to success in the showroom. The history and the culture of the brand played a big part in purchaser loyalty. That is what the Mustang Boss 302 model was all about, both then and now.
Dave Pericak, Mustang's chief engineer put it this way: "Everything we did for the 2013 model is consistent with and links directly back to our 1970 heritage. The reflective stripes and hockey stick graphic in particular mean something to Mustang enthusiasts. Last year, we proved the car had what it takes to perform and this year we focused on enhancing its eye-catching looks and celebrating its history."
The Boss 302 model with a price tag of $48,799 includes a five-litre V8 engine, plus additional performance goodies that enhance the vehicle's horsepower to 444.
Buyers also have a choice at $39, 299 for the GT Coupe Premium model, which comes with the same basic five-litre engine delivering a lower 420-horsepower.
The standard V6 model is competitively priced at $22,864.
 Specifications Mustang V6 premium and convertible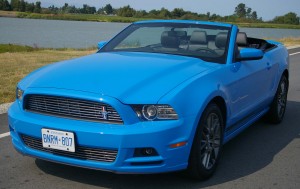 Mustang V6 premium model starts at $25,054 (standard V6 starts at $22,864). Convertible starts at $28,000.
In addition to the standard V6 specifications, which includes 17-inch painted aluminum wheels, premium am/fm/CD, audio input jacks, advanced electronic stability control, electronic power steering with leather–wrapped wheel and MyKey owner control, there are four different packages available:
Performance Package with strut tower brace and sway bars.
Mustang Club Of America SE – painted billet grille, tape strips.
Pony Package – 18- inch polished aluminium wheels, satin-chrome grille, embroidered floor mats.
Exterior Appearance Package, with lower tape strip and deck spoiler.
GT Coupe and Convertible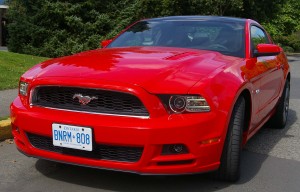 GT Coupe starts at $33,608; convertible starts at $38,008
Includes all V6 features plus:
Dark chrome Pony badge in grille
18-inch wide spoke painted aluminium wheels
Heated leather sport bucket front seats
MyColor back lighting for gauges
Shaker sound system with SiriusXM and Ford SYNC.
Standard track Apps.
Boss 302
Starts at $48,799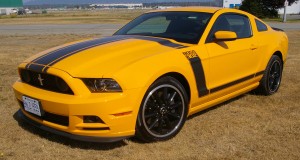 Includes all GT features plus:
Brembo front calipers and rotors
5.0 litre high output Ti-V6T V8 with 444 hp
Charcoal black sport seats
Alcantara suede- wrapped steering wheel.