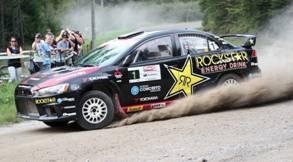 Antoine L'Estage and co-driver Nathalie Richard brought their Mitsubishi Evolution (left) in second place at the Rallye Défi, stretching their lead in the 2012 standings. Photo: Philippe Ericksen
The fourth round of the Canadian Rally Championship was held September 7-8 in the Quebec Laurentians and Outaouais regions.
Rallye Défi turned into what has been one of the toughest events in years, with only 13 of 29 teams completing the circuit.
After taking a lead on the very first stage of the 2012 Rallye Defi, Ken Block (Park City, Utah) and Alex Gelsomino (Park City, Utah) drove through bright sun, heavy rains and over rough roads on their way to victory. The Monster World Rally Team pair led the rally from start to finish, thrilling the fans at the fourth round of the 2012 Canadian Rally Championship.
"It wasn't all that easy, but it was a lot of fun," said Block after the rally. "These roads here are quite amazing, so I really enjoyed myself."
Antoine L'Estage of St-Jean-sur-Richelieu, Que. and his co-driver Nathalie Richard of Halifax in their Rockstar Mitsubishi Lancer Evolution earned second place overall, ending their winning streak at four but increasing their lead in the series standings.
Simon Losier of Blainville, Que. and Philippe Poirier from St-Rédempteur, Que. drove their Synchro Racing Lancer EVO VIII to fourth place, edging ahead of Maxime Losier in a similar EVO VIII with Stéphanie Lewis from Montreal, victim of an off-road meters from the end.
Heavy rain and strong winds turned the gravel roads into mud pits on Saturday. Of the seven teams in the Mitsubishi Brigade, Albertans Hardy Schmidtke and John Hall in their EVO IX finished 12th overall. Jeffrey Dowell and Yavor Klostranec were leading the Production Sport class but elected to withd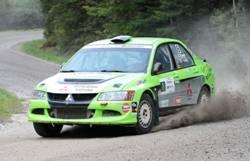 raw for medical reasons.
The EVO VIII of Simon Losier and Philippe Poirier who earned their season best, a fourth place.
Photo: Philippe Ericksen
The Canadian Rally Championship will head west of the Rockies for the next round on October 12 & 13. The Pacific Forest Rally is held in the ranching town of Merritt in British Columbia, 300-km northeast of Vancouver. It will showcase 175 kilometres of special stages within a  600-km trek over two days. L'Estage and Richard will look to lock a third-straight national title with a win in Merritt.
More information is available at www.pacificforestrally.com.