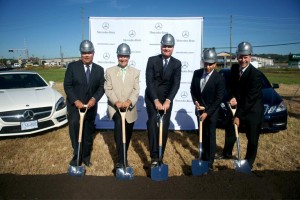 On September 6, 2012, Tim A. Reuss, president and CEO of Mercedes-Benz Canada, joined The Honourable Peter Fassbender, Mayor of Langley, and Ajay Dilawri, president of the Dilawri Group of Companies, to break ground and celebrate the official start of construction that will create a modern new Mercedes-Benz retail facility in B.C.'s Fraser Valley.
Prominently located on a 3.8-acre site at the busy corner of Glover Road and the Langley Bypass, the expansive 46,500-square-foot building will be the home for the Mercedes-Benz, AMG and smart brands in Langley.
In addition, the dealership will serve the growing after-sales, parts and accessories needs of customers in the region.
The design and layout of the new structure will follow the proprietary Mercedes-Benz "Autohaus" concept, which guarantees a consistent brand identity for each dealership in the company's cross-Canada network.
For example, an open concept, 16,600-square-foot showroom will incorporate the trademark widespread use of glass to maintain transparency and create a bright and airy feeling throughout the display area.
A large service area of nearly 10,000 square feet will offer 16 state-of-the-art bays, including two oversized bays to accommodate the Mercedes-Benz Sprinter. There will also be a separate, dedicated area with the capacity to accommodate up to five cars at once to help streamline the process for new and pre-owned vehicle deliveries.
The construction of Langley Mercedes-Benz represents a $9.5-million investment that will create new jobs and help further boost the economy in the region. Plans for the new building were developed by Kasian Architecture, and the project is being managed by Ledcor.
The dealership is slated for completion in the spring of 2013.