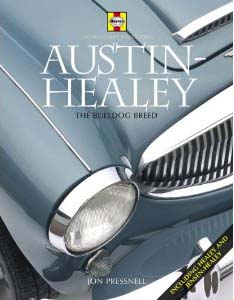 Reviewed by Mike Tate
The title of this book is somewhat of a misnomer, as not only do we enjoy Healey's BMC relationship but also some of the company's other associations with Nuffield, Riley, Nash, Alvis, Innocenti, Leyland, BMH, BLMC, Austin-Morris, of course, and latterly, Jensen.
Donald Mitchell Healey was a staunch Cornishman and a modest garage owner for many years. He was also a sporting motorist and enthusiast in an era when private entries could still succeed in motor sport, which is a far cry from today's competitive world.
Healey competed in such notable events as the Monte Carlo Rally (winner in 1931), the Mille Miglia (9th place in 1948) and he won both the 1928 RAC British Rally and the1929 Brighton Rally, as well as taking the victor's laurels in the Austrian Alpine Trial and the Hungarian Alpine Rally in 1930.
Along with his son, Geoffrey, and the considerable talents of Roger Menadue—Healey's longest serving employee—Healey took on the challenge of being a motor manufacturer in 1945. Author Jon Pressnell, from his base in rural France, delivers a well-researched book that flows in an orderly manner and reads with ease, the chosen typeface however is a bit pedantic.
The quality of reproduction and weight of paper is pleasing and the content delivers a solid foundation for the many interesting photographs within.
If you own, or owned any of the Healey range of sports cars, this is a title that you will need on your bookshelf not only for the pleasure of ownership but as a guide and aide memoir for long-forgotten detail.
Published by Odcombe Press
Price $39.95.
Mike Tate is a motoring aficionado, retired racer, car historian, Concours judge and a past president of the Vintage Racing Club of British Columbia.
Auto-Books is sponsored by Wilkinson's Automobilia, 2531 Ontario Street, Vancouver, BC V5T 2X7; 604.873.6242.