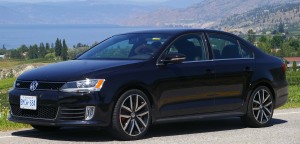 Here is some good automotive news. Volkswagen Canada, celebrating its 60th year in Canada, has released its sales figures for the first half of 2012 that show a seven per cent increase over 2011 sales, with 33,669 new vehicles sold through its 135 Canadian dealers.
Considering that last year was a record year for VW, this is an impressive benchmark for one of the world's largest producer of passenger cars and Europe's largest automaker.
What is also impressive is the fact that the VW line of vehicles appear to be living up to company claims of "excellent combinations of fuel efficiency, quality and great value," as stated by John White, president and CEO Volkswagen Group Canada.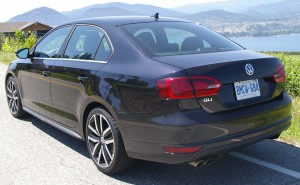 Partly because of the trend to smaller salon cars, North Americans are now able to buy what Europeans have enjoyed and demanded for years—quality, value and fuel efficiency. Now that there are models available like the Ford Focus, Honda Civic, Chevy Cruze, Subaru Impreza and VW Jetta to name a few, car buyers have a choice and the opportunity to compare a variety of comparably sized vehicles like never before.
Enter the Jetta GLI
Twenty-eight years after its first introduction, the 2012 Jetta model continues to live up to the European standard that some have classified as near-luxury cars or compact executive saloons. But it is the new generation GLI model that delivers quality, value, fuel efficiency and performance.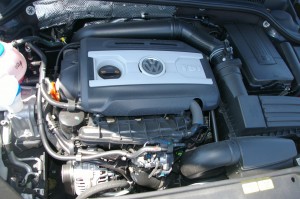 Arguably with one of the best engines ever produced by VW, the Jetta GLI is powered by a four-cylinder, two-litre turbo-charged engine that cranks out 200-horsepower and produces 207 lbs ft of torque at just 1,700 revs per minutes (rpm), making it a joy to drive as demonstrated on a recent trip to the Okanagan.
No turbo lag and maximum horsepower at 5,100-rpm, plus rapid gear-changing with the easy-shifting, six-speed manual gearbox and light clutch added a ton of fun on the ever-changing Princeton-Hope highway stage of the return journey.
Other performance-enhancing aspects of this sporty saloon is the great road-feel experienced through the electro-mechanical rack-and-pinion steering, strong acceleration, confident breaking-firm suspension with minimum roll and an all-round feeling of complete confidence under all driving conditions.
Unlike the base Jetta, the GLI further enhances driving pleasure with a tuned sport multilink independent suspension, which maximizes traction, reduces understeer and improves overall response around corners, and it has just the right amount of firmness for around-town driving conditions.
Driver's fit and finish
Like all Jettas, this model has lots of front and back passenger room. Up front, both driver and passenger sit in deeply sculpted sport seats with attractive red stitching also found in the large well-crafted multifunctional sport steering wheel, handbrake and shifter boot. In the back there is lots of leg room and the seats fold flat to access the generous 440-litre trunk.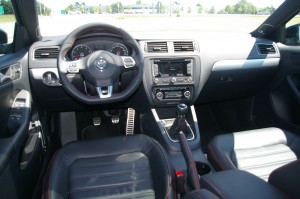 In addition to those aforementioned features, the GLI comes standard with 17-inch alloy wheels, heated eight-way adjustable seats, keyless access with push button start/stop, 400-watt Fender digital audio package, eight speaker system with subwoofer, Bluetooth mobile phone connectivity, climate dual-zone climate control, cruise control, front and side airbags, fog lights and touch screen radio with six-disc CD changer.
Apart from its base price of just $27,475, another key advantage of owning this attractive performer is its ability to deliver 9.8/6.2 L/100-kilometres (city/hwy) for the manual stick shift and 8.8/6.1 for the automatic.
In the first half of this year, Volkswagen sold 14,482 Jettas in Canada. Contact your VW dealer to test drive one.