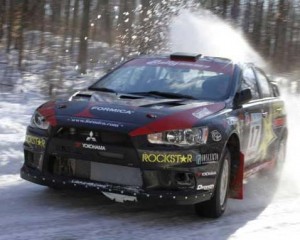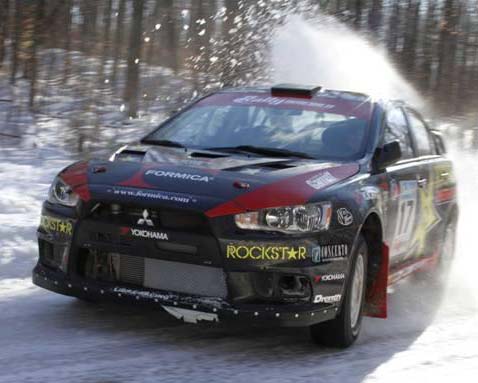 Reigning Canadian and North American champions, Quebec driver Antoine L'Estage (of St-Jean-sur-Richelieu) and co-driver Nathalie Richard (of Halifax, Nova Scotia) kicked off the 2012 season with a solid performance, finishing in second place at Michigan's SnoDrift Rally, Round 1 of the Rally America series.
At the wheel of their brand new Mitsubishi Lancer Evolution X, the Rockstar Energy Drink duo earned valuable championship points in the United States and are ready for the start of the Canadian Rally Championship.
"We may not have won, but the outcome of this first rally in 2012 is still pretty positive," said L'Estage.  "On one hand, the new car had no mechanical issues and doesn't have a scratch on it and on the other hand, we earned second place points in what are promising to be hotly contested championships [North American and Rally America].
"The 2012 edition of the SnoDrift Rally was without a doubt the toughest driving conditions I've ever been faced with.  The icy roads were comparable to an extremely smooth ice rink and it was practically impossible to find any grip. The first loop of stages was especially tough for me before I was able to better adapt to the new car on ice.  I also made a mistake by cutting a corner where I shouldn't have, resulting in a flat tire and another big loss of time.
After having conceded a big gap during the first day, L'Estage and Richard essentially tied the eventual winners on the second day, finishing the competition in second place behind British rivals David Higgins and Craig Drew.
L'Estage holds four North American championship titles (2007, 2008, 2010, 2011), four Canadian titles (2006, 2007, 2010, 2011), one American title (2010), and 31 overall victories in Canada and the U.S.
Richard holds seven overall national championship titles (4 Canadian and 3 American), as well as 37 overall rally wins on both sides of the border. She also holds a record 7 North American Co-Driving Championship titles (2004 – 2011, excluding 2006).