New mid-engine coupe takes its purist cue from Boxster Spyder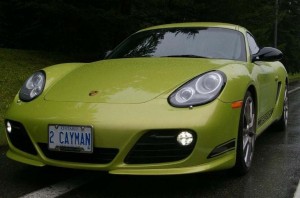 Featuring 121 pounds less weight and the most horsepower available in a mid-engined Porsche, the 330-hp Cayman R has been created for one reason: pure driving dynamics.
With its highly-tuned sports suspension and vigilant attention to weight savings, the third Cayman model offers an even more precise driving experience than the "standard" Cayman S.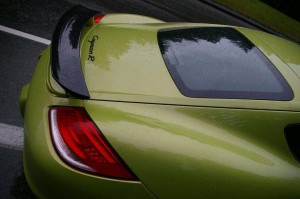 A direct descendant of the famous 1950's 550 and 1960's 904 mid-engined, high-performance Coupes, the 2012 Porsche Cayman R, the newest member of the mid-engine family features the highly efficient 3.4-litre six-cylinder Direct Fuel Injection (DFI) boxer engine found in the Cayman S, but produces 10 more horsepower.
With a six-speed manual transmission, the Cayman R sprints from a standstill to 60 mph in 4.7 seconds, two-tenths of a second faster than the Cayman S.
With the optional seven-speed dual-clutch PDK (Doppelkupplungsgetriebe) transmission and the Sport Chrono package, the exercise is reduced to 4.4 seconds. Top track speed with the manual transmission is up by 3 to 282 km/h, 280 km/h with the PDK.
The main objectiv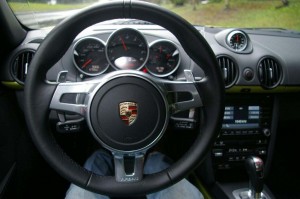 e in the concept and execution of the Cayman R was to improve the already energetic two-seater through a systematic reduction in weight, thereby increasing performance, driving dynamics and agility.
With a DIN unladen weight of 1,295 kg, Porsche engineers were able to achieve a power-to-weight ratio of 3.9 kilograms per hp and with 4 kilograms per hp with the PDK.
More from Less
The greatest savings comes from the use of lightweight components and the omission of certain standard equipment not directly associated with driving performance.
In addition to the removal of the A/C and stereo, the driver-focused Cayman R utilizes a sports suspension system that lowers the Cayman R by 20 mm, helping lower centre of gravity.
Optional on the Cayman S, the Cayman R comes with a standard limited slip differential, front and rear spoilers from the Cayman Aerokit and special lightweight 19" wheels also fo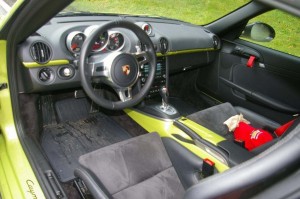 und on the Boxster Spyder.
Lightweight aluminum door skins, carbon-fiber backed sport bucket seats and interior door panels from the 911 GT3 RS also contribute to the weight reduction. Black-framed halogen headlights, contrasting side mirrors and decorative "PORSCHE" side-stripes add to the unique appearance.
The 2012 Cayman R is in dealer showrooms with a base price of $75,600.
Quick Specs:
Horizontally opposed 6-Cylinder, Mid-Engine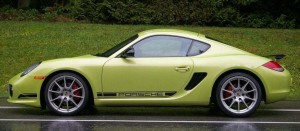 Displacement – 3.4 litres
Bore – 97 mm
Stroke – 77.5 mm
Horsepower – 330 @ rpm – 7400
Torque – 273 lb-ft @ rpm – 4750
Compression ratio – 12.5: 1
Fuel tank capacity – 54 litres
0-60 (manual: PDK w/Sport Chrono PDK) – 4.7 seconds /4.4 seconds
Top track speed manual (PDK) – 282 km/h.