Vancouver artist Bill Richards is a full-time studio artist working in a variety of media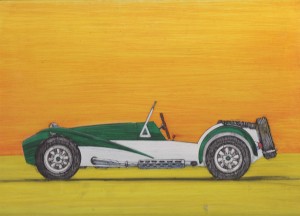 including oil, encaustic, acrylic, watercolour and ink.
One of Richards' specialities is automotive paintings and drawings, which reveal his love of cars, racing and speed. His work is valued by art collectors and automotive enthusiasts alike for his attention to detail in the intricate pen work, innovative composition and original use of mixed media.
Commissioned by the Vancouver All British Classic Car Show for use in its official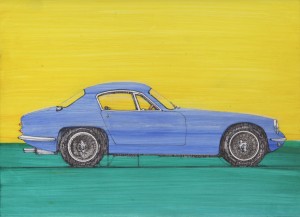 2012 poster, the four Lotuses depicted celebrate the 60th anniversary of the marque and paid homage to the genius of car builder Colin Chapman.
The original 12"x9" wood-mounted paintings of four iconic 1960s Lotus cars are painted in bright, contemporary colours reminiscent of the Swinging Sixties Warhol style. They may be purchased at a special Vancouver ABFM price of $375 per painting. For further details, contact the artist direct at billyrdesign@gmail.com.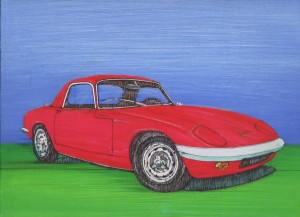 Examples of the artist's recent paintings and drawings will be on display at this year's Vancouver ABFM vendors' area, May 19, 2012 at VanDusen Garden, 37th and Oak Street, Vancouver.
All graphics copyrighted Billy Richards.