By Mike Tate, on location at Goodwood 2011
The whole Goodwood experience is of course, as expected, like French cuisine well prepared, but very rich and fulfilling and there is little appetite left for desert!
But there is more, so leave a little room for the stars.
Strolling through the paddock at The Goodwood Revival is like walking through a superb, three-dimensional race-car coffee table book; history and quality at every glance. But one is also surrounded by some of the people who actually drove these wonderful cars in their heyday.
Just like at any vintage or classic event, the drivers are happy to talk about their association with their cars and the past, which makes for very memorable moments.  Let's face it, one does not get the opportunity to talk to the likes of Sir Stirling Moss, Jackie Stewart, David Piper, Brian Redman, Nick Mason, Tiff Needell, Jackie Oliver, Alain de Cadenet and five-time Le Mans winner Emanuele Pirro all in one day, but I did!  It's all a bit overwhelming, really, but lots of fun and fascinating beyond belief.
Sir Stirling Moss and his lovely wife Lady Susie were once again kind and gracious with their time.  I last met him two years ago at Laguna Seca, when I presented him with a commemorative poster from the old Westwood track in British Columbia on behalf of the Vintage Racing Cub of British Columbia.  This time I had a wonderful and amusing Craig Ainscough cartoon (aren't they all) which was created for the VRCBC about his 1999 coming together with Max Balchowsky's 'Old Yeller 11' at Laguna Seca's turn two—I had it suitably framed for the presentation. In 1999, I was in the press centre at Laguna Seca when the accident happened as Sir Stirling Moss took a tight competitive inside line at turn two.  He looked at the cartoon and laughed at its satire but admitted that the incident wasn't funny at the time!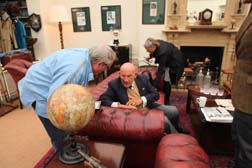 Gracious, as always, Sir Stirling Moss (seated) accepts Mike Tate's VRCBC/Ainscough Cartoon in The Driver's Club at Goodwood 2011.
Sir Jackie Stewart, strolling around with wife Helen, son and grandchildren, was inundated with autograph hunters but always had the time to talk.  He was the only driver there smaller than me . . . I suppose that is where the 'Wee Jackie' comes from!
Photo: ST291
Caption: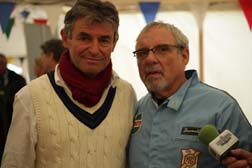 No question who wins the height race between Alain de Cadenet and Mike Tate.
David Piper was in the paddock with his distinctive green Ferrari 250 LM, he also owns a Porsche 197K, which he bought new from the factory, and a Lola T70!  That would be about my favourite choice of cars, too, and I told him so.  Piper won the Kayalami nine-hour endurance races in South Africa five times from nine starts, a great achievement.  He lost part of one leg during the filming of Steve McQueen's Le Mans but continued to race very competitively, that takes courage..  He is a gentleman racer and also gentleman in real life, easy to talk to, with happy memories of Canada and Mosport.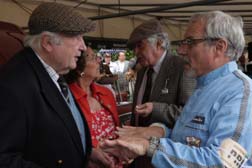 David Piper (left, foreground) and Mike Tate (right, foreground) exchange views in the paddock as Brian Redman chats to Mrs. Piper.
Let's face it they were all interesting to listen to and their recollections are hard to condense. Suffice it to say, I am very grateful to them all for their time and patience.
Photo Credits: Mike Tate & Associates