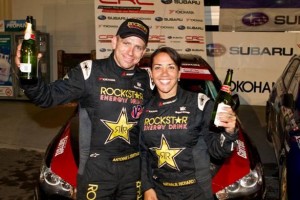 Merritt (BC), October 2, 2011.- Antoine L'Estage (of St-Jean-sur-Richelieu, QC) and his co-driver Nathalie Richard (of Halifax, Nova Scotia) contested the Pacific Forest Rally, the penultimate round of the Canadian Rally Championship, held in Merritt on September 30-October 1, 2011 weekend.  The duo won six of the competitive stages and assured themselves second place overall, giving them enough points to clinch the 2011 Canadian title with one event remaining in the championship.
This marks the fourth Canadian championship for the Rockstar Royal Group team and is their second 2011 title, after locking up the North American Rally Cup with their win at the Rallye Défi in September.
"We stuck to our original plan for the weekend and the entire team did an amazing job to ensure that we could bring home the championship title again this year," said L'Estage. "After winning every single Canadian rally since September 2010, (seven consecutive events), I had to hold myself back a bit here because our priority was the championship title.  The Pacific Forest Rally is not an easy event and again this year, many teams suffered from flat tires or mechanical issues.  Our Yokohama tires provided us with the best line-up to avoid any flats and our Mitsubishi Lancer Evo X was once again extremely reliable.  Our championship is as much for us as it is for John Buffum and the entire Rockstar Royal Group team for their dedicated work throughout the entire season."
Quebec driver, L'Estage, and his small private team have experienced a remarkable season with a string of victories and titles. Winning the championship in Merritt, during the second last event in the 2011 calendar, is an advantage because it eliminates all pressure on the team for the Rally of the Tall Pines, the final event of the year taking place next month in Ontario.
The Rally of the Tall Pines will offer Mitsubishi a chance to win the manufacturer's title if L'Estage's Mitsubishi Lancer Evo X finishes in the top 6 overall.
For L'Estage's co-driver, Nathalie Richard, this second consecutive Canadian title highlights a faultless season.
"This year, we truly demonstrated how important the concept of a team is," said Richard.  "In the car, it's Antoine and I that need to set fastest times but it's the work of John Buffum and our amazing mechanics, as well as the implication of all of our sponsors, that enable us to be so successful."
L'Estage holds four North American championship titles (2007, 2008, 2010 and 2011), four Canadian titles (2006, 2007, 2010 and 2011), one American title (2010), and 31 overall victories in Canada and the US.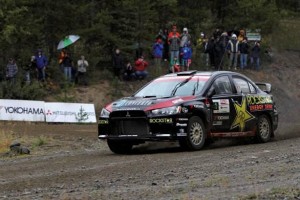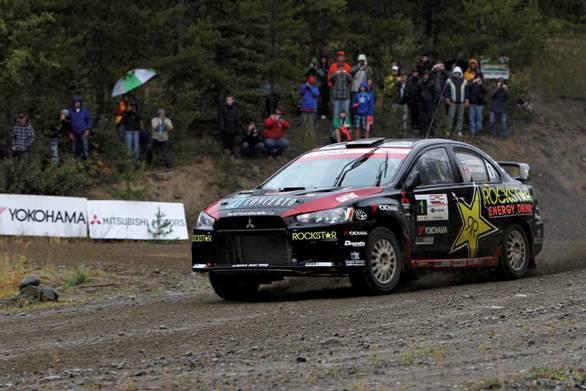 Richard holds seven overall national championship titles (four in Canada and three in the USA), as well as 37 overall rally wins on both sides of the border. She is also a seven-time North American Champion (2004 – 2011, excluding 2006).
Photo Credit :  Andrew Snucins, Coyote Rallye Media
Photo Credit :  Aaron Kathman, www.WorldRallySport.com