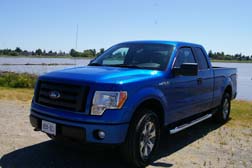 Canada's workhorse truck has been leading the pack for the past 33 years and now ups the ante with four new engines that deliver 20 per cent greater fuel efficiently than the 2010 models.
They are a 3.7-litre four-valve Ti-VCT V6  with 302 horsepower and 278 lb-ft of torque; 5.0-litre four-valve dual-overhead cam Ti-VCT V8  with 360 horsepower and 380 lb-ft of torque; 6.2 –litre two-valve single-overhead cam with 411 horsepower and 434 lb-ft of torque; and the signature EcoBoost Ti-VCT 3.5-litre with 365 horsepower and 420 lb-ft of torque.
Each engine is mated to a six-speed automatic transmission and Ford is the first and only manufacturer to equip its entire full size pickup truck line-up with six-speed automatic transmission as standard.
More Control
SelectShift functionality available in the six-speed automatic transmission allows the driver to select the desired gear and also has the capability to lock out the available gears while in Drive. Also available is tow/haul mode, which provides better control when hauling a heavy load or towing a trailer, especially when descending grades. The improved system uses sophisticated electronic sensors to better predict the driver's need for a downshift to provide engine braking and enhanced control.
Nimble Steering
Adding to the F-150's fuel efficiency is EPAS (electric power-assisted steering). This system replaces a conventional hydraulic system, running continuously off the engine with a system that draws power only when needed. The result is greater fuel savings and a better steering feel on the road, and while parking.
The EPAS system can be tuned to each model based on wheelbase, powertrain and other factors.
Content Options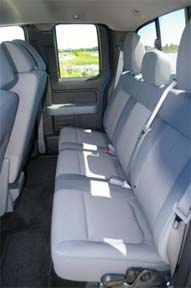 The F-150's wide range of powertrain options is complemented by a greater variety of offerings and expanded content.
A 4.2-inch LCD message centre and larger in-mirror rear view camera screen that can zoom in or out is useful during towing operations. The LCD message centre screen menu options display information on fuel economy, towing performance, and off-roading—all controlled through a five-way button on the steering wheel.
Other content includes three-point seatbelt and head restraint for the middle front seat passenger, express up and down front windows, 110-volt outlet, remote start, power telescoping and tilt steering wheel and a perimeter alarm.
SYNC and Ford Work Solutions available
SYNC and Ford Work Solutions technology stalwarts feature an in-dash computer that provides full high-speed Internet and wireless accessories that include a mouse and printer; Tool Link, a tracking system that enables owners to maintain a real-time inventory of tools and equipment stored in the vehicle; Crew Chief, a fleet telematics and diagnostics system; and Cable Lock System to secure large tools or equipment in the cargo area.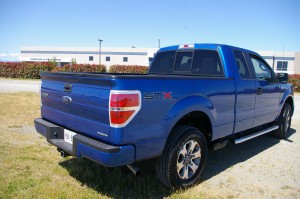 More choice
The Ford F-150 comes in five trim levels—XL, STX, XLT, FX2/FX4 and Lariat. The XLT also offers a custom package tailored to the 3.7-litre V6 F-150 model. This includes 18-inch machined aluminum wheels, chrome exhaust tip, body colour four-inch running boards, body-colour front and rear bumper fascias, unique grille with body colour surround, and chrome billet insert, resulting in one very cool-looking truck.
See your Ford dealer for a test drive. Prices start at $36,799.