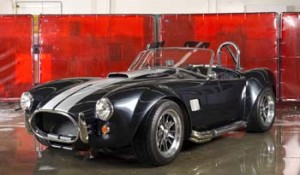 By Andy Gregory, VCC communications
It started as a piece of metal in the auto shop at Vancouver Community College (VCC), and now car-lovers all over B.C. are jockeying to own it.
This 1967 Factory Five Cobra kit car, worth an estimated $60,000, was built by several dedicated, at-risk youth from East Vancouver. They spent close to three years toiling away in the college garage.
The NASCARZ 'Never Again Steal Cars' program was developed in 2005 thanks to a concerned east Vancouver community worker and participation from the Vancouver Police Department and VCC's Centre for Transportation Trades. Dozens of teens enrolled in the program to refurbish a vintage vehicle.
NASCARZ taught them to rebuild cars instead of stealing them.
It's a program Vancouver police and ICBC have hailed a success in deterring millions of dollars in theft per year.
Kumba Moseray was one of the first to enroll in the program along with 20 other inner-city teens, all eager to work on old cars. "I just love cars," said Moseray, who would later win a scholarship to the automotive collision repair program and enter the workforce, where her skills are in high demand.
The NASCARZ program was honoured with a silver medal in June at the Association of Canadian Community Colleges annual conference in Edmonton.
A raffle is being held to win the Cobra.
Click to Buy a ticket.