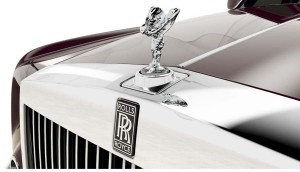 VANCOUVER – February 18, 2011 —Rolls-Royce Motor Cars has launched a special limited-edition collection of Phantom cars to celebrate 100 years of The Spirit of Ecstasy, the most iconic of automotive hood ornaments, and its original designer Charles Robinson Sykes.In the early 1900s, Lord John Scott Montagu commissioned his friend, Sykes, to sculpt a personal mascot for the bonnet of Montagu's Rolls-Royce Silver Ghost. Sykes chose Eleanor Velasco Thornton, who was involved in a secret 15-year love affair with Lord Montagu, as his model. Sykes crafted a figurine of Thornton in fluttering robes, pressing a finger against her lips to symbolize the secret of their love. This figurine was consequently named The Whisper.
Thornton died tragically in 1915, when the SS Persia, on which she was travelling on her way to accompany Lord Montagu on a trip to India, was torpedoed by a German U-boat in the Mediterranean.
When Rolls later commissioned Sykes to produce a mascot that would adorn all future Rolls-Royce cars and become generic to the marque, Sykes chose to modify The Whisper into a version similar to today's The Spirit of Ecstasy. He presented the mascot to the company in February 1911.
A parade in London this month inaugurated a series of global events to celebrate the Centenary Collection Rolls-Royce and to honour Charles Sykes.
The Rolls-Royce Spirit of Ecstasy Centenary Collection will be limited to 100 vehicles worldwide, each featuring details such as solid silver Spirit of Ecstasy, black Rolls-Royce badges and custom interior and exterior features.
Rolls-Royce of Van

couver is now taking orders for vehicle delivery in early summer 2011. For more information, visit http://www.rolls-roycemotorcars-dealer.com/Vancouver.