NEW BOOK NEWS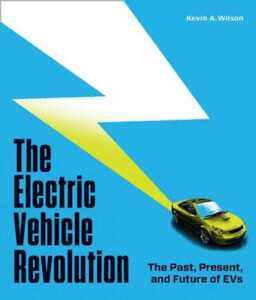 In The Electric Vehicle Revolution, automotive journalist Kevin Wilson explores the fascinating, evolving world of electric vehicles, from the first EVs in the Victorian era, their rapid expansion today, and where EV technology is heading.
Since the turn of the twenty-first century, EVs have gone from wonky and toes-in-the-water efforts like GM's EV1 and early Teslas to every manufacturer's must-have future.
In the last decade, Tesla Motors disrupted the auto industry, setting the stage for responses by the mainstream auto industry, including Nissan's Leaf, Chevrolet's Bolt, and a host of high-end EVs from companies like Audi, Jaguar, and the like.
The Big Three have vowed that up to 50% of their car sales will be electric by 2030. Rival start-ups also step in, and government incentives, subsidies, and regulatory demands drive unprecedented development. By mid-2022, more than 25 per cent of American consumers polled told AAA that they expected their next car to be electric.
The rush to electrify has nations and companies competing to see who can declare the earliest end to internal combustion engines. Still, this radical transition won't be as easy as throwing a switch. The Electric Vehicle Revolution thoroughly explores the challenges of infrastructure, battery and vehicle tech, consumer cost, and the long phase-in as EVs are set to replace existing gas cars over decades.
Illustrated with 150 images, The Electric Vehicle Revolution provides an engaging and authoritative overview of where the car world is today and its future direction.
About the author
Kevin A. Wilson has been writing about cars, the industry, its history, and motorsports since 1986, initially for AutoWeek magazine, where he served in several editorial roles through 2009. His work appeared in Popular Mechanics, Road & Track, Automobile, and Car and Driver, among others and was on the Car and Driver editorial staff from 2016 to 2019. Long a Society of Automotive Historians member, Kevin has been the chief judge of the Ypsilanti Orphan Car Show in Michigan for over 15 years. He lives in Waterford, Michigan.
***
Publishing November 7, 2023 ∙ Hardcover, 176 pages, 150 images ∙ $53.00 CAN, $35.00 US ISBN: 9780760378304