The Automobili Lamborghini Museum has received a redesign and new layout, marking the start of Lamborghini's 60th-anniversary celebrations in an important year for the Sant'Agata Bolognese company.
The museum has changed its name, remodelled its layout, design, and exhibits and added a newly-created exhibition, "The Future Began in 1963," which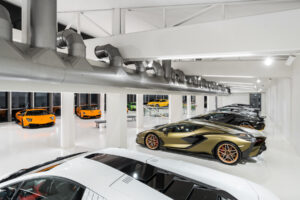 retraces the most emblematic eras and representative moments that mark the history of Lamborghini's first 60 years.
The narrative begins with the brand's evolution and products from 1963 to the present, starting with founder Ferruccio Lamborghini. The 19 cars on display are the heroes, telling the story of the brand and Lamborghini's iconic technical and design heritage: innate principles that characterize the company's DNA.
The exhibition emphasizes the deliberately unconventional and revolutionary way each new model was born, capable of breaking the rules of each era and setting new benchmarks every time.
All Lamborghini super sports cars encompass at least one disruptive idea that initially seemed outlandish but was adopted into automotive evolution, leading to the constant refinement of almost every aspect of a vehicle.
The structure that houses the Museo Automobili Lamborghini is full of extraordinary history. It is part of the first nucleus of buildings for which, in 1963, Ferruccio Lamborghini laid the foundation stone of a company capable of creating an extraordinary history and becoming an authentic source of inspiration for future generations.
List of cars on display, divided into three main themes:
Heritage: 350GT; Miura S; Espada; LP 400 Countach; Urraco; LM 002.
Contemporary: Diablo GT; Murciélago SV; Gallardo Performante Spyder; Huracán Performante; Aventador SVJ; Urus; GT3.
Few-off: Reventón; Sesto Elemento; Veneno; Centenario; Sián; Countach LPI 800-4.
Main topics covered by year: 1963, Foundation; 1964, 350 GT; 1966, Miura; 1970, The factory expands; 1971, Countach; 1990, Diablo; 1993, the four-wheel drive; 1998, Audi; 2001, Murciélago; 2003, Gallardo; 2004, Centro Stile; 2011 Aventador; 2015 CO2-neutral plant; 2018 Urus; 2023 Direzione Cor Tauri Strategy.