With the opening of Morrey Volvo Cars Burnaby on September 27, 2021, Volvo now has a new retail location in Vancouver's Lower Mainland.
With electric vehicle sales in British Columbia increasing in 2021, the opening of Morrey Volvo Cars Burnaby seeks to help address the consumer demand for EVs and serve the growing sales and service needs of Volvo customers in Burnaby and its surrounding areas.
Located on 1.5 acres on Still Creek Drive in Burnaby, the new Morrey Volvo Cars offers a unique footprint amongst luxury automotive dealerships in the surrounding area. The 15,675 square foot facility offers a full-service showroom for both new and certified by Volvo vehicle sales, 6 service bays, and is in the active planning stages of installing electric vehicle chargers throughout the property to support Volvo's all-electric future.
By the end of 2023, Morrey Volvo Cars Burnaby is also slated for a full renovation to reflect Volvo's design philosophy for all retail locations. Dubbed the 'Volvo Retail Experience' or 'VRE' for short, this facility design concept will feature modern Scandinavian design cues that reflect the company's Swedish roots.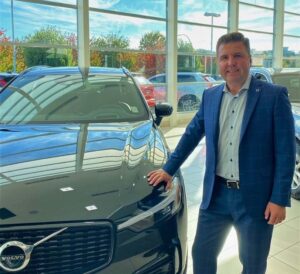 Jason Morrey at the new Morrey Volvo Cars Burnaby location. Photo courtesy Volvo, ID: 286934