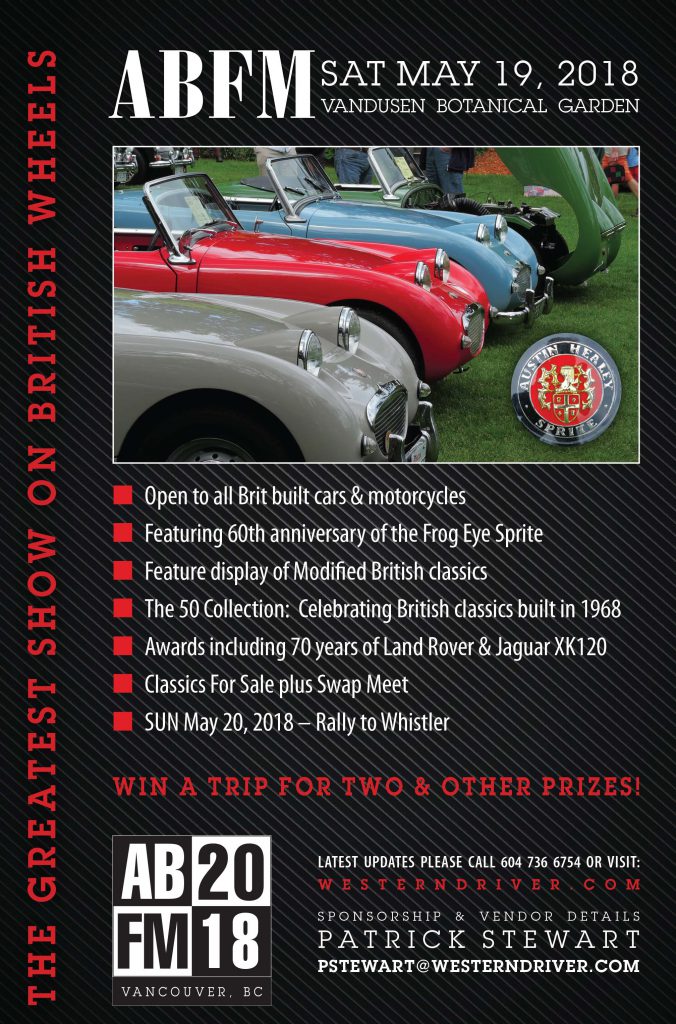 UPDATED: January 17, 2018
Dubbed The Greatest Show on British Wheels, Vancouver All British Field Meet (ABFM 2018) celebrating 33 years, will make its way to the magnificent venue at VanDusen Botanical Garden on British Columbia's Victoria Day weekend. Western Canada's largest collection of 500-plus British-built cars and motorcycles will be displayed in 60 classes on the lawns for all to enjoy.
INTERNATIONAL RECOGNITION
"The show consistently features the widest range of British marques and models to be seen anywhere in North America and we were honoured last year when the event was recognized by the world's best-selling classic car magazine, Classic & Sports Car, with a five-page featured editorial showcasing the large variety of cars on display, together with interesting stories on their owners," said Patrick Stewart event co-director.
FEATURED MARQUES
One of the world's most beloved British sports cars, the Austin-Healey Frogeye or Bugeye Sprite will star in the 2018 Featured Marque display to celebrate its 60th anniversary, coincidentally one day prior to its launch date on May 20, 1958.
Another world favourite celebrates 70 this year. Launched April 30,1948 Land Rovers were known as the Farmers Friend due to their field service design and all-terrain drive. Expect to see a large display of early Series' models through to the latest examples in the Land Rover Class display area.
In addition to Land Rover, the Jaguar XK120 will also celebrate its 70th anniversary and will be recognized in a special display.
Younger enthusiasts attending the show will want to check out the special Classic Looks, Modern Drive display of modified Brit cars. Young enthusiasts will also play a key role in deciding the winners of the annual Student Judging Award supporting the NASKARZ program for at-risk kids.
For the first time, the event will feature a display of 50-year old cars. Titled The 50s Collection, expect to be both surprised and enlightened by 50-year old technology and design that was a part of the heyday of automotive British design.
WESTERN CANADA'S LARGEST
The world-class VanDusen Botanical Garden venue provides a magnificent setting for this annual spectacle of awe-inspiring classics, complemented by food trucks, parts' vendors, musical entertainment, classics for sale and dealer future-classic displays. With 500-plus entrant vehicles and more than 5,000 enthusiasts of all ages in attendance, this event is the largest British classic car event of its kind in Western Canada and the second largest in the Pacific Northwest.
YOU'RE INVITED
If you own a British Car or motorcycle in any condition, why not display it and enjoy the opportunity to meet and share stories with fellow classic car enthusiasts, plus have the chance to be recognized with an award or win a trip and other valuable prizes.
For the attending public, take a trip down memory lane, talk to the owners, browse the vendor stands, enjoy food truck offerings and tunes from the resident brass band or take home your very own classic car from the on-site Classic Car Corral. Your entrance ticket qualifies for the grand prize draw for a Trip for Two.
For media and sponsorship/vendor information or to enter your classic for sale in the Car Corral please contact: Patrick Stewart pstewart@westerndriver.com, telephone 604 644 9067.
To enter your car in the 2018 Vancouver ABFM at VanDusen, click

2018 Vancouver ABFM Entry Form.
Are you an out-of-town entrant to the 2018 Vancouver All British Field Meet? Following is our special accommodation info.
We have blocked a limited number of rooms in each of the two official Vancouver ABFM event hotels and the Whistler Run hotel.
Vancouver ABFM VanDusen Event Hotels:
Room Category: [May 18-21, 2018] Executive Queen: $156 Canadian; Provincial King Suite: $196. Rates are based on double occupancy and do not include applicable 15% tax. Exclusive offer: $18 parking rate for all Vancouver ABFM group members. Rooms and preferred rates will be held until April 28, 2018.
Reservation Method: Call 1-800-726-3626 / 1-800-SANDMAN. Reference: British Classic Car Show – #854503. A valid credit card is required at the time of reservation to secure any guests rooms under the British Classic Car Show.
Click

All-British Whistler Run

for information and an Entry Form for this event, occurring on Sunday May 20, 2018.