The 2018 Alfa Romeo Stelvio Quadrifoglio has claimed the title of world's fastest production SUV, setting a new benchmark lap time at Germany's legendary Nürburgring.
In September 21017, a Stelvio Quadrifoglio lapped the 20.7-kilometre) Nordschleife (north loop) in a record 7 minutes 51.7 seconds. This new benchmark time is a full eight seconds faster than the previous production SUV record. Video footage of the record-setting lap can be viewed on the Alfa Romeo YouTube channel at YouTube.com/AlfaRomeoUSA.
The Stelvio Quadrifoglio record was established by Fabio Francia, the same Alfa Romeo driver who also set the track record for the fastest four-door sedan in the world on the Nürburgring with the Giulia Quadrifoglio in a time of just 7 minutes and 32 seconds.
The heart and soul of this ultra-high-performance SUV is an all-aluminum, direct-injection 2.9-litre 24-valve twin-turbo intercooled V-6 engine, delivering a best-in-class 505 horsepower and 443 lb.-ft. of torque, and a standard Q4 all-wheel-drive system.
In addition to best-in-class horsepower, the Stelvio Quadrifoglio features segment-leading V-6 torque and the most horsepower per litre in its class.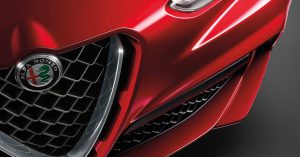 Designed to optimize the all-new lightweight Alfa Romeo architecture, the all-aluminum 2.9-litre V-6 twin-turbo engine features a compact 90-degree layout and was holistically designed for a low centre of gravity within the chassis. The Stelvio Quadrifoglio also features a class-exclusive carbon fibre driveshaft and the most direct steering available.
Advanced technology features unique to the Stelvio Quadrifoglio include a four-mode Alfa DNA Pro selector with Race mode, torque vectoring differential, Quadrifoglio-tuned adaptive suspension, Quadrifoglio instrument cluster with 330 kilometre per hour (kph) speedometer and a cylinder deactivation system to maximize fuel efficiency.
Ultra-high-performance options for Stelvio Quadrifoglio include:
Ultra-lightweight carbon fibre shell Sparco racing seats, providing maximum lateral support during extrem

e cornering thanks to more aggressive bolstering, and designed to be the lightest in the segment, while providing comfort for long road trips

Ultra-high-performance Brembo carbon-ceramic material (CCM) brake system (CCM) brake system
With the all-new 2018 Alfa Romeo Stelvio Quadrifoglio, Alfa Romeo took on the challenge to create an SUV that includes high performance, capability and design.
The 2018 Alfa Romeo Stelvio starts at $52,995. For more information, visit