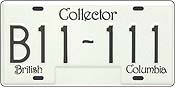 The B.C. Government is extending the Modified Collector plate to 1974. It has also granted permission for fenderless vehicles 1940 and older to be operated on paved dry roads in British Columbia.
These are areas that the National Association of Automobile Clubs of Canada (NAACC), Collector Car Club Council, Specialty Vehicle Association of British Columbia (SVABC), BC Hot Rod Association (BCHRA) and the Vintage Car Club of Canada (VCCC) have been working on for many years.
Bob Kelly of the SVABC had a significant influence on the minster involved to help extend the 'Modified' collector plate from 1958 to 1974.
The BCHRA and fenderless committee members Dan London, Keith Biddlecombe, Rick Ross, Art Brumpton and Jim Winter also had a great influence on the acceptance of fenderless vehicles in BC.
Many groups met with ICBC over the past 20 years. Jim Mcdonald, Fred Bennett. Nigel Matthews and John Carlson met with AirCare and ICBC for more than 13 consecutive years on a monthly basis. Each person represented a particular group of collector car enthusiasts.
The NAACC under the direction of John Carlson and SVABC under the direction of Nigel Mathews continue to meet regularly with ICBC.
ICBC has asked that the (NAACC) National Association of Automobile Clubs of Canada help distribute the following collector car survey.
The survey will take approximately 8 to 10 minutes to complete. It will close August 29, 2016.
Click here for the survey, which must be completed on a home computer.
The survey is designed to gain your support for a change to the Collector Plate program age criteria, so please read it closely, think twice before answering as any changes made will not be reversed in your lifetime.