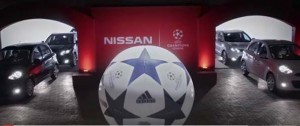 Nissan, partner of the UEFA (Union of European Football Associations) Champions League, tested its vehicles during an innovative football game with what it considered the best alignment: The star football product portfolio in Latin America.
The innovative encounter was a faithful recreation of an official UEFA Champions League match with lineups presentation, referee, opening ceremony, halftime and closing-time. All League elements were present, including singing UEFA's anthem and greetings between competitors.
Two teams of four members each competed on the field: Nissan NP300 Frontier in the strong defense, Nissan X-Trail and Nissan Qashqai in the middle and Nissan March in the powerful and agile front.
Professional pilots were in charge of the challenge accompanied by special co-pilots from the sports world in Latin America, who will be sharing their own experience using Nissan vehicles during the match.
The exclusive group of co-drivers comprised of 'players' including:
Black team—Quique Wolff. Former Argentine player and sports presenter, currently leads the "Simplemente Fútbol" show on the ESPN television network.
Sebastián "Tatán" Mejía. Colombian experienced pilot of "Freestyle Motocross". He is currently the official driver of the Nissan team in the Colombian "March Cup".
Fabian Vargas. Colombian professional player; he has played in important teams in the region such as America and Millonarios of Colombia, Boca Juniors in Argentina, Almeira in Spain and International in Brazil.
White team—Marcelo Benedetto. Argentine sports journalist who has worked in networks including TyC Sports, FOX Sports, Telefe and Fútbol para todos.
"El Rifle" Varela. Juan Manuel Varela, currently leads the TV show TN Extreme.
Jorge "Patrón" Bermudez. Former Colombian soccer player better known as "El Patron Bermudez", in 1988 he was captain of the Colombian national team.
Claudio Bustíos. Chilean sports journalist of "Canal 13 and host of "Digan la verdad" show in the Tele13 Radio station.
Both teams left everything on the field, confirming the capabilities of Nissan vehicles.
To view the video, click here https://www.youtube.com/watch?v=q8YGMPEhgFs