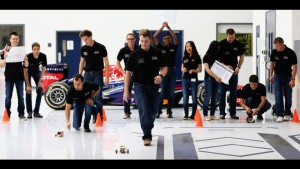 Infiniti's global search for the best up-and-coming engineering undergraduate talent begins its third successive year with the launch of the 2016 Infiniti Engineering Academy.
Canadian students have the chance to earn the career opportunity of a lifetime in Formula One and automotive engineering, with a factory F1 team and the premium Japanese vehicle manufacturer.
Infiniti believes that the most daring, forward-looking technology is driven by the freshest, most creative human talents, and its new Technical Partnership with the Renault Sport Formula One Team includes as a crucial component this unique automotive-to-Formula One training program for brilliant young engineers.
"With a long standing passion for Formula One and globally competitive engineering universities, Infiniti Canada is honoured to be taking part in this year's Infiniti Engineering Academy," said Stephen Lester, managing director Infiniti Canada.  "With a national final in Montreal this summer, we challenge engineering students from around the country to demonstrate their 'Inspired Performance' and earn the ultimate placement with Infiniti and the Renault Sport Formula One Team."      

Success Breeds Success
Having launched the careers of previous winners William Priest and Eric LaRoche, the academy is the technical recruitment initiative in Formula One.
In 2016, the following global Infiniti regions are participating: China, Europe (including Russia), Canada, Mexico and Asia & Oceania, with the Middle East and US to be confirmed at a later date.
"We are looking for excellent students offering a mix of academic and professional experience across such disciplines as Electronics, Aerodynamics, Mechanical Design and Composite Design," said Bob Bell, Renault Sport F1 chief technical officer. "The academy offers a compelling opportunity for up-and-coming engineers to experience the fundamentals of automotive and motorsport engineering."
With the added depth of knowledge transfer and enhanced scope for collaboration that Infiniti's Technical Partnership with the newly formed Renault Sport Formula One Team brings to the Academy, a wide range of experiences and opportunities will be available to the winners.
For more information on the Infiniti Engineering Academy, or to apply to be a part of the class of 2016, visit http://academy.infiniti.com.