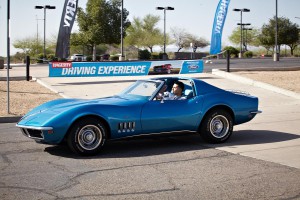 Hagerty is starting the engine on its highly-anticipated Hagerty Driving Experience.
Celebrating its 5th season, the program has put more than 600 students in the driver seat to teach them how to operate automobiles equipped with a manual transmission.
Not only does the Hagerty Driving Experience teach young drivers, ages 15-25, to shift gears, but they are taught while behind the wheel of exciting classic cars.
Participants learn the ins-and-outs of starting, operating and driving a wide variety of cars from instructors and classic owners themselves.
In addition to the driving course, students take part in a classroom discussion that outlines how a clutch and manual transmission operate as well as a "Car Care Essentials" seminar to learn the basics of vehicle maintenance.
The morning and afternoon half-day sessions run about three hours and are limited to approximately 20 students per session.
"The Hagerty Driving Experience introduces the next generation of enthusiasts and helps keep the collector community strong and vibrant," said McKeel Hagerty, CEO of Hagerty. "This program is an excellent way for today's youth to experience classic cars and embrace the opportunity to learn how to operate them."
2016 EVENTS:
Canada Locations
• Wetaskiwin, Alberta – Saturday, July 16, 2016 – Reynolds-Alberta Museum
• Caledonia, Ontario – Friday, August 26, 2016 – Caledonia Fairgrounds
U.S. Locations

• Golden, CO – Saturday, May 14, 2016 – Colorado State Patrol Driving Track
• Chicago, IL – Saturday, August 27, 2016 – Location TBD
• Tacoma, WA – Saturday, September 17, 2016 – LeMay – America's Car Museum
The Hagerty Driving Experience features a variety of classic cars provided by local owners and collectors. Past events have included a 1928 Packard phaeton, 1930 Ford Model A, 1933 Stutz DV-32 Monte Carlo, 1955 Porsche Continental, 1950 Willys Jeepster, 1963 Corvette "split window" coupe and a 1962 Aston Martin DB4.