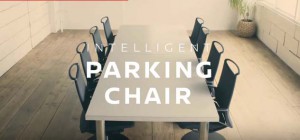 Nissan has designed an Intelligent Parking Chair, a concept inspired by its intelligent park assist technology that allows drivers to park their vehicles using automatic steering.
The Intelligent Parking Chair moves to a set position through the use of a roller that automatically moves 360 degrees and which is paired with a system that indicates the target position.
Four cameras placed on the room's ceiling generate a bird's-eye view to wirelessly transmit the chair's position and its route to destination.
Japanese businessmen are now freed from the troublesome task of arranging chairs, using this technology already adopted in the European model X-Trail Hybrid and other Nissan vehicles around the world.
To view the Intelligent Parking Chair in action, click here https://www.youtube.com/watch?v=XkeoLtLFdO4