Almost 80 years since the Jensen name appeared on cars, the famous marque returns with the opportunity to order the first officially sanctioned model in 13 years.
Marking the rebirth of the brand, the formation of the Jensen Group is the start of the next chapter in the Jensen story, following the collapse of the car manufacturer in 2002.
Spearheaded by industry stalwart Tim Hearley, the return allows enthusiasts to purchase an officially sanctioned car, the Jensen GT.
As the man responsible for the return of Jensen and the force behind defending the Jensen trademark for almost four years, Tim Hearley, executive chairman of The Jensen Group, is delighted with the re-launch of the marquee.
"This represents the next chapter of Jensen and, as we look to the future, we want Jensen enthusiasts to help us celebrate as we unveil a completely new car and outline our plans for the future," said Hearley.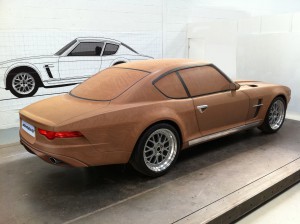 The Jensen Group is currently engaged on a project to launch Interceptor 2 in 2016, which may involve collaboration with an established automotive group. The Jensen GT will fill the gap between the last true Jensen, the Interceptor of 1976, and an all-new, state-of-the-art car due to be revealed in 2016.
This new model, classed as Interceptor 2, will take design cues from the classic Interceptor and advance the concept of the original grand tourer to provide a thoroughly modern and exciting vehicle.
Despite several companies claiming to be the spiritual home of Jensen, the Jensen GT is the first new car to legitimately bear a Jensen badge in the more than 13 years, since the demise of the S-V8 in 2001.
This extremely limited edition will be built under an agreement between the Jensen Group and Jensen International Automotive (JIA), well known for their modified Interceptor R models.
The Jensen GT will be available exclusively through JIA.