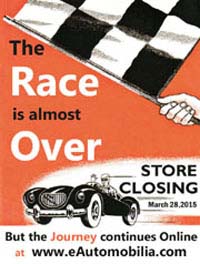 "You don't know what you got till it's gone," sang Joni Mitchell in her famous song Big Yellow Taxi, and this may well be the state of mind of every collector car enthusiast after March 28 2015, when the realization that Vancouver's mecca for all things automobila will be gone for ever.
Well not entirely for ever, since the online store will continue to provide some presence of the unique experience that was such an intricate part of the Wilkinson's Automobila store.
Every shelf, nook and cranny in the store was packed and overflowing with an unimaginable variety of beautiful automotive gems guaranteed to stir a collector car enthusiast's heart.
Often quoted as one of the best stores of its kind in the world, the business was successful because of Ted and Bill Wilkinson, plus Ross, Tim and Hanson and their vast knowledge of a huge variety of collectables. Their passion for the collector car world made any store visit a unique experience.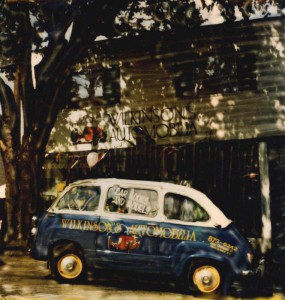 So, for now, collector car "paradise" may be "paved," but come March 28 we are sure that everyone hopes that eAutomobila.com continues to be the virtual reality of the old-style bricks and mortar of the past.
On behalf of all Western Driver and ABFM enthusiasts, thanks are extended to the Wilkinson team for 25 wonderful years and the best of good fortune for future endeavours.
HERE IS THE OFFICAL WILKINSON ANNOUNCEMENT DATED JANUARY 16, 2015
As times change, so must we, and so it is with mixed emotion that I announce the closure of our brick and mortar store at 2531 Ontario Street. This probably comes as a complete surprise, although this transition has been in the forefront of my mind for some time. It's hard to believe that our storefront location has been in operation for 26 years—longer than we could have foreseen. We have met so many incredible people over the years from all walks of life and from both sides of the counter. We realize this change will affect many.
Why is this happening? After more than a quarter of a century, I still love the business and the customers, but also want to have more time to play with 1:1 scale cars. As it stands, the online version of Wilkinson's Automobilia (eAutomobilia.com) will continue to function and supply you with the same quality and customer service you have become accustomed to, but as a result of the sale of the building our Ontario Street location will be closing its doors March 28, 2015. Keeping that in mind we are looking for a warehouse location to hold our on-line inventory…if you are aware of a space please let us know.
So what's next you may ask? As the store is one of the touchstones for our automotive community, we would like to see it continue in some form or fashion. As mentioned above, we will be maintaining the website for now, but would love it if someone else took over the driver's seat and continued the journey of building community and celebrating all things automotive.
If you think you are up for the challenge and are interested in purchasing the business, please contact me directly at ted@eautomobilia.com.
I still have a hard time believing this is happening… but it is. It has been so much fun and such a challenge running the store all these years. I will mostly miss the face-to-face contact with the people, the car lovers, the drivers, the collectors, the racers, the enthusiasts…
I would like to extend a special thanks to all of you who have kept our storefront vibrant all these years, and would especially like to thank the current staff—Ross, Tim and Hanson, and past staff—all of whom have shown passion, dedication and commitment to Wilkinson's Automobilia over the past many years. And also a thanks to my brother Bill, who started this excellent adventure with me!
Hope to see you.
With all my sincerity,
Ted Wilkinson