Pacific Forest Rally October 3 & 4, 2014
Presented by Subaru, Supported by Yokohama, Round 4 of the 2014 Canadian Rally Championship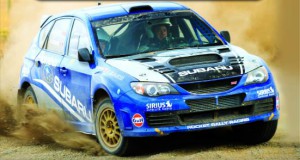 MERRITT, BC – The Canadian Rally Championship makes its annual Pacific Forest Rally (PFR) pit stop on Oct. 3 and 4, 2014 in the City of Merritt as the fourth round of the 2014 series.
PFR attracts rally teams from around Canada and the U.S., which compete in production‐based cars on the challenging back roads of the Nicola Valley.
The continuing battle between the Mitsubishi and Subaru vehicles resume with Antoine L'Estage sitting in a strong position for Mitsubishi at 44 points, followed by Alexandre Beland in second place for Subaru at 31 points.
Quebec-born L'Estage of the Mitsubishi national team has had a strong season so far, finishing first in both Rallye Perce-Neige and Rallye Baie des Chaleurs. Joining L'Estage in the right-hand seat this year is national champion Alan Ockwell. While this is a change for Ockwell, who has been competing with local B.C. driver Pat Richard, the L'Estage-Ockwell duo have been pushing limits and creating a great show for everyone.
Alexandre Beland, a relative newcomer on the Canadian rally scene, has been pushing hard this year and the point-standings reflect his efforts. This Quebec-born driver and his co-driver Lynn Murphy are currently using "The Beast," which is the fan favourite orange-and-black car driven by 'Crazy Leo' Urlichich.
Anything can happen in motorsports and all eyes will be focused on the PFR Rally event in Merritt, where a change in the standings will increase the excitement prior to the championship series moving to Invermere, BC Oct. 31-Nov 1, 2014 for the Rocky Mountain Rally. The series ends Nov. 28-29, 2014 at Rally of the Tall Pines in Bancroft, ON.
Meanwhile, PFR organizers are working hard to deliver a national caliber event centered in downtown Merritt, consisting of eight challenging stages on the closed roads of the surrounding mountainside, including one brand new road and one road that hasn't been run in a decade.
All the action will be broadcast in English on TSN, in French on RDS, as well as in more than 89 countries internationally.
"Rally officials, volunteers and the City of Merritt, Chamber of Commerce and local businesses have collaborated to produce this extreme motorsports spectacle, and I want to thank everyone for the past 11 years of dedication and support," said Paul Westwick rally organizer. "PFR has earned its reputation as the premiere rally event in Western Canada through the skilled volunteers, superb organization and a rally course located in the picturesque Nicola Valley, which is respected for its challenging terrain by all drivers and crews."
There will be plenty of opportunities for the public to catch the rally teams in action, both on the mountain roads and in downtown Merritt.
The event begins with a display of rally cars Thursday October 3, from 6pm-9pm during technical inspection, which occurs at Frank's Mechanical on Mamette Avenue, Merritt, BC.
The rally cars will also be on display on Granite Ave on Friday, October 3, followed by a 5pm ceremonial start, after which the cars head off on the first stage.
The rally resumes on Saturday morning, when teams depart and return to the service paddock at the Wagon West Travel Plaza on Airport Road, Merritt, after each race stage, and later in the early evening a winners' Champaign Splash will be held outside of the Merritt Desert Inn.
A special Rally for the Prize draw for a VIP package, which will include a ride in a fast rally car, will be held October 2 as part of the rally event promotion. Rally fans can get details on how to enter online at pacificforestrally.com.
PFR supports the work of the Abilitas Foundation www.abilitasfoundation.org and encourages all drivers and rally fans to support its fundraising drive for the sake of kids and adults with disabilities.
For more information and the latest updates about the event, visit www.pacificforestrally.com or contact Nicki Beverley 1.250.574.4363 nicki@shaw.ca.
The Pacific Forest Rally is organized by the Westcoast Rally Association and is sanctioned by ASN Canada FIA and the Canadian Association of Rally Sports.
The 2014 Pacific Forest Rally celebrates its 37th anniversary in BC, and 12th running at the City of Merritt venue. The event has an economic impact of approximately $250,000 to the Nicola Valley area and is considered the premiere rally event in Western Canada, with more than 30 rally teams competing, 100 volunteers, 50 VIPs, and numerous spectators.
For media information, contact Patrick Stewart 604.644. 9067, pstewart@westerndriver.com.