This Jensen, one of approximately 49 made, was the last to come out of the Jensen factory in May of 1976, just before the credit receivers locked the doors.
The owner of the factory, Kjell Qvale decided to keep this car for himself. The car was shipped to his BMC dealership in San Francisco and fitted with Zenith wire wheels and a dealer license plate. He drove the Coupe for many years without registration, so it had no title.
After about 10 years, it was placed in one of his storage facilities where it sat until 1997. Also in 1997, Kjell's sons decided to have a 50th year in business anniversary party for BMC and their father. They also wanted a Jensen Interceptor convertible to set in the showroom for the party, so Kjell asked Doug Meyer at K&D Restoration in Snohomish, Washington, if he would consider restoring his coupe.
Meyer agreed and a month later the car arrived at K&D for a complete restoration. Meyer was not ready to start on it at that time so it went into storage for a couple more years.
When Meyer finally reviewed the Jensen and submitted his estimated cost for the Jensen's restoration, Kjell decided that he was at an age where he would never be able to drive the car again, so it was not reasonable to spend more than 200K on a car that he could not drive.
Meyer suggested that this Jensen had too much history to just remain in its present state, but if Kjell would sell it to him, he would return it to its previous glory.
Kjell agreed and then had to apply for a California title so he could sell it. California had a real problem issuing a 1976 first-time title in 2000, but they finally agreed and produced a new title for its first and only owner.
After purchasing the coupe, Meyer re-titled the vehicle in Washington State, but made a colour copy of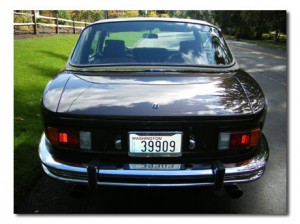 the California title with Kjell's signature on it.
Upon starting the restoration, Meyer decided not to do the usual upgrades that cars of that era need, but to keep the Jensen as original as possible.
This required a substantial amount of research.
The car originally had Zenith wire wheels that were common for BMC to add on as a dealer option and a wood steering wheel that was requested by Kjell—the car now has Dayton wires and a Motolita wood steering wheel.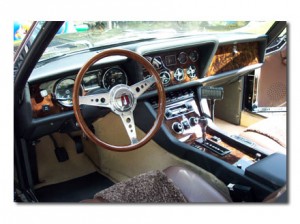 He had the paint code for Cheviot brown so that was no problem, but the interior was another matter.
Connolly Leather had gone out of business but Bridge of Weir had bought their stock and files. He had the leather colour code so was able to order the eight hides to original, however, the seats had sheepskin inserts so he had to call the company that made those inserts in the '70s and convince them to do a process that had not been done in 20 years.
Meyer spoke to the company that makes British Ever-Flex vinyl and got them to make the roof vinyl in the same shade as it was in 1976. These companies change their colour shades every few years but most keep records of the colours they have made in the past.
He had to get Wilton Wool to make the same carpet colour and also had to convince the company that made the wool head lining to do the same thing.
The wheel medallions on the Zenith wires had not been available since the '70s but Meyer asked the owner if he still owned the tooling, which, as it turned out, he did.
According to Meyer, with the exception of the leather for the seats, he had to purchase more than 10 times the product than was needed for one car.
Everything else was pretty much normal stock so every product, nut, bolt and screw was replaced with new. He still has the outdated telephone and cassette short wave radio, which he has decided not to re-install. He has installed the remote arm for the radio.
After two years, this car was ready to be on the road and with no break in miles, he drove it to the docks in Seattle and loaded it into a container along with his business partner Keri Meyer's Merlin and sent them both to England for the Jensen International in 2004.
It had been planned for Kjell Qvale to attend that year but, sadly, he took ill at the time and could not attend.
After the cars returned to the U.S., they were driven to Santa Cruz, California for the Jensen West coast National at which Kjell was persuaded to attend. When he saw the car for the first time, he was truly amazed and proud and frankly admitted the factory never made it this good.

For more information about this car, email Doug Meyer at doug@jenseninterceptor.com or call 425-788-0507.
See this and many other superb Jensens at this year's Vancouver All British at VanDusen on Saturday May 17, 2014, 10am – 4:30pm.