Test Drive & photos by Tony Whitney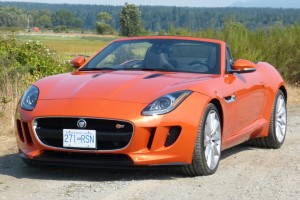 It's been some time since the production version of the Jaguar F-Type was first unveiled, but the wait for the stunning new 2014 version as been well worth the wait.
The car was first shown in "design study" form way back at the 2000 Detroit auto show, so it's been a long time coming. It was widely praised at the time, but few of us who were there believed it would ever be built without considerable modification. Now, more than a dozen years down the road and following a couple of "tryouts" that never made it to the market, the F-Type is here.
The big question is whether or not it lives up to the role it was given that morning in Detroit—is it a true successor to the legendary E-Type of the 1960s?
The truth is that there'll never be another E-Type and to those in the know, that's probably just as well. Despite its stunning looks and outstanding-for-the-day performance, the E-Type had its share of problems and the expensive restorations you're likely to see today are certainly a lot better than the original cars. 
The F-Type is certainly a worthy successor to the E-Type in that it's compact and agile and has great looks. It also features technology that was only a dream back in the 1960s and it's likely to boast a far higher level of reliability. The bigger XK series sports cars were never intended  as "E-Type successors" but they remain solidly in the Jaguar lineup to meet the demands of a different kind of buyer. The original E-Type was amazingly inexpensive in its day and and the new F-Type will be the least costly Jag sports car.
The front engined, rear drive, F-Type makes its debut as a roadster with a foldaway fabric top, but a coupe is said to be on the way. There's even talk of a hybrid variant, but this – if it ever happens—will be some time in the future.

There are three versions of this new Jag – F-Type, F-Type S and F-Type V-8 S. I tested the F-Type S for Western Driver.
As might be imagined, the major difference between the three options is under the hood. The base car has a 3.0-litre V-6 developing 340-horsepower; the F-Type S has an uprated version of the same engine giving 380-horsepower and the top "F" offers a potent 5.0-litre V-8 putting out 495-horsepower. The V-8 is a familiar unit that is used elsewhere in the Jaguar lineup so a high level of reliability can be expected. The V-6 is new, but since it's derived from the V-8, it should be durable and long-lasting.
All three engines use a technically fascinating 8-speed automatic transmission but as yet, no manual gearbox is on offer.
Quite frankly, the shift speeds of modern automatics make manual gearboxes more of a nostalgia choice than a practical benefit. For enthusiasts who must have at least some manual gearbox control, there are paddle shifters (nicely finished in gold) on the steering wheel – a popular feature on performance cars these days.   
The bodywork is very handsome indeed—sculpted and sensual but at the same time, chunky and aggressive-looking. The Jaguar badge sits on a black mesh radiator grille and either side of this grille, Jaguar has sited intakes that look like shark gills.

From a side view, the nose looks long and sleek and there is a hint of Jags from years gone by. The car is a few inches longer than a Porsche Boxster and very slightly shorter than a Porsche 911, but it doesn't look oversized.
The alloy wheels (with grippy Pirelli P-Zero tires) are of large diameter, as is currently the norm with cars like this, and they fill the arches nicely. From a styling standpoint, this new Jaguar gets very high marks—the rear end with its slim lighting units is especially attractive.
My V-6 S variant has two huge exhaust pipes that look as though they belong on a transit bus (The V-8 has four smaller pipes).
Incidentally, like many other Jaguar/Land Rover products, the bodywork is fabricated from aluminum with a composite material used for sills, trunk lid and a cockpit-deployable rear spoiler.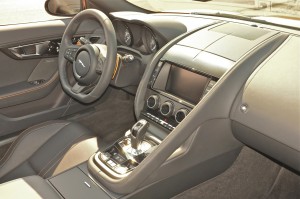 The cockpit is highly driver-oriented and most controls and switches are located on the main instrument binnacle or on a central console. The seats are very supportive and on climbing in, the driver becomes in effect "part of the car," which is the aim of all sports car designers. Oddment space around the cockpit is quite reasonable, but the trunk will take a decent amount of luggage and has a "well" which is handy for stowing cargo which might otherwise roll around the floor.
A fairly conventional shift lever is used, which I found a little fiddly to figure out at first. It's one of those electronic "springback" units with no positive detents for park, reverse, drive and so on. Also, the LED that illuminates the P/N/D/R positions is hard to see when the top's down and the sun is shining. I guess owner familiarity would take care of this particular gripe. I'd have preferred Jaguar's wonderful rotary glide-out knob used on other models, but I have to say that the 8-speed transmission itself is a fine piece of engineering and should convince even the most devoted manual fans that this is the way to go.
The car is a total delight to drive, especially when the road gets a little twisty, and it's no surprise to me at all that it's being compared to the Porsche 911. It's highly responsive and handles with outstanding poise—it also makes some of the best engine sounds I've heard since I last drove a Ferrari.
Incidentally, the top folds or raises in just seconds and even though there's a useful warning chime when everything's in place, I found myself visually checking because it seemed too fast to be believed. This is a top which can be raised or lowered at even the briefest stop light.
It took a while, but it's great to see Jaguar bringing us a car like this and it's bound to be a major seller for the Indian-owned UK manufacturer. It's a little more affordable than any Jaguar sports car we've seen for years and in fact, it's more of a "true" sportster than the (nonetheless outstanding) XK model.
Both V-6 and V-8 powered units are supercharged and use advanced electronics to monitor fuel usage. As with most premium vehicles now, the F-Type has every imaginable comfort and technological benefit and the safety systems are state-of-the-art. Even the passenger has an impressive array of seat and other controls, right down to a dedicated memory setting.
The pricing seems very fair (MSRP starting at $76,900) for a prestige-nameplate car that skimps on absolutely nothing when it comes to power, handling, ambiance and luxury features. The Jag battles in a very competitive market segment with lots of tempting alternatives from makers like Mercedes-Benz and Audi. Even so, Jaguar sales have been strong worldwide in recent times and this is a manufacturer that's very much proceeding along the right path. The F-Type can only enhance this success.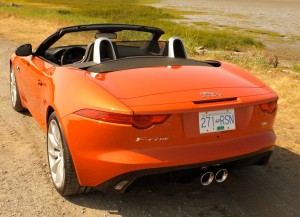 Specs at a Glance…
Body Style: Two-door, two-seater sports roadster
Engine: V-6 and V-8 options available
Transmission: 8-speed automatic with manual shift
Peformance: Zero to 100 km/h in approx 4.3-seconds

Fuel Economy: TBA
Price: MSRP starting at $76,900.