Way back in 1970, my wife and her best friend, as newly qualified nurses from Northern Ireland, spent about 18 months travelling around Canada working in hospitals to pay their way.
When they reached Vancouver, they bought the green Mini 850 (Registration FCH 150) that they called Spot shown in these photographs.  They used it to travel throughout BC and the Rockies and down to San Francisco and beyond – to the guffaws not least of the Yanks driving the huge gas guzzlers of the time.
They sold it in Vancouver when they returned home and it had passed into history until last year, or perhaps the year before, when a sighting of it was reported in Vancouver in pristine condition having been brilliantly restored.
However, while I am confident that their source saw a beautifully restored Mini of this type and era, I cannot be sure that this was their Mini and there is a suggestion that it had a new number plate – Canadian equivalent of our veteran car plate?
Now, rather th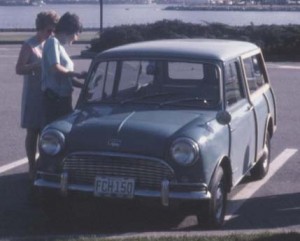 an see out my days with my sanity threatened, forever wondering whether it was or was not, I would very much like to pin the restored Mini down and get my wife a surprise photo of the vehicle in its restored condition, if it is.
It strikes me that you might be well placed to assist.  Can you help me with this or forward the details to anyone on the veteran car circuit who might be better placed to do so?  I regret that I can offer no more than my gratitude in return.
Best Wishes
Philip Hawkins
Lilleshall, Shropshire, England
Please forward any information to pstewart@westerndriver.com and we'll pass on to Philip.