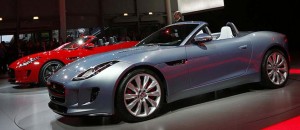 Coventry-based Jaguar Land Rover has struck a "milestone" deal with China's Chery Automobile Company and will begin manufacturing vehicles in China by 2014.
The Jaguar F-TYPE is an all-new two-seater soft-top convertible sports car, built on a front-engine, lightweight aluminum architecture and rear-wheel drive.  It goes on sale in summer 2013.
The announcement came after the Chinese government granted approval and a licence for the new partnership.
A research and development centre and engine production facility will also be built as part of the CA$1.58-billion joint-venture.
Jaguars and Land Rovers will be built at a new manufacturing facility to be constructed at Changshu near Shanghai, China, as well as new joint-venture branded vehicles aimed at the Chinese market.
A joint statement released by the Chinese and British companies said: "We are delighted to have reached this milestone, achieved thanks to the understanding and foresight of the Chinese authorities and we want to thank them for recognizing the potential of our joint venture in the fast-growing Chinese market.
"Together, we will now begin working in close collaboration on our partnership plans to harness the capabilities of our respective companies, to produce relevant, advanced models for Chinese consumers."
Jaguar Land Rover delivered almost 60,000 Jaguar and Land Rover vehicles to the Chinese market between January and October 2012, an increase of almost 90 per cent over the same period last year.
Jaguar Land Rover has said that any cars produced would be in addition to its existing output, and it had no intention of moving its manufacturing base out of Britain.