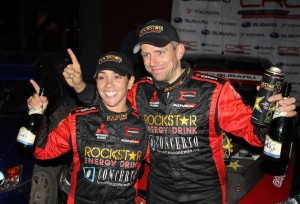 The October 13-14, 2012 weekend, the  fifth round of the Canadian Rally Championship, saw the crowning of new Canadian champions Antoine L'Estage from St-Jean-sur-Richelieu, Que. and co-driver Nathalie Richard from Halifax.
Antoine L'Estage and co-driver Nathalie Richard. Photo: Shawn Bishop

The pair took an early lead in their Mitsubishi Evolution and coasted to another outright victory over the second-place Albertan crew of Hardy Schmidtke and John Hall in a Lancer Evo IX.  With their victory, L'Estage and Richard enjoy a sizable lead in the standings and clinch their fifth Canadian title.
Mitsubishi also claims the manufacturers' championship while Schmidtke and Hall take the Rally West title.
With two previous victories earlier in the season in the Rally America series in the United States, L'Estage and Richard already notched the North American championship for a fourth year in a row.
The Mitsubishi Brigade took more honours with Tibor Kertes and co-driver Spencer Armstrong earning a class Production GT win and finishing sixth overall in another Mitsubishi Lancer Evo X. In Group 5 class, for 2WD vehicles, winners were Krystian Ostrowski and partner Christopher Galecki who completed the event in 14th place in a Mitsubishi Eclipse. Finally, another Albertan team, Wim Van Der Poel and Bryan Lord, drove their Lancer Evo VIII to 11th place.
L'Estage and Richard's Mitsubishi Evolution. Photo: Shawn Bishop
"Our teams did exceptionally well this weekend with L'Estage and Richard giving Mitsubishi bragging rights for another rally title," said Tony Laframboise, vice-president of sales and marketing, Mitsubishi Motor Sales of Canada. "Rally racing is a key part of our heritage.  The championship for the L'Estage/Richard team and Mitsubishi Motors of Canada is a very fitting testament to our Lancer Evolution and the extraordinary driving skills of the participants."
Last round : Tall Pines Rally
The Tall Pines Rally will be the last round on the 2012 calendar, a long standing national event in late November. Held near Bancroft, Ont., Tall Pines is typically very eventful, filled with surprise and commonly known as winter roads and summer ditches! The Pines is a one-day event starting early on Saturday and covering more than 520 km, comprising 15 stage sections for more than 200 km. For more information, please visit the event web site at www.tallpinesrally.com <http://www.tallpinesrally.com/> .