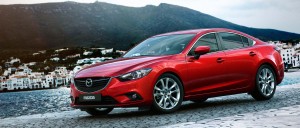 From design concept to final production, the all-new 2014 Mazda6 has been a teasing feast for the eyes.
Spawning from its TAKERI Concept beginnings, which made its global debut at the Tokyo Motor Show November 2011, the redesigned Mazda6 has been adapted for more practical wheels-to-road use.
Similar to TAKERI, the Mazda6 features a new front fascia with a five-point "signature wing." Part of the KODO "Soul of Motion" design language, the Mazda6 sits on a 111-inch long wheelbase, allowing for a roomier interior and storage space.
Compared to the previous generation, the front wheels have been pushed forward nearly four inches in relation to the A-pillar, resulting in reduced overhang, while the rear deck has been shortened, further enhancing the vehicle's lower, leaner and longer stance.
The second Mazda to feature the full suite of SKYACTIV® technologies, the Mazda6 will launch in Europe this year with an added slew of all-new safety features and fuel efficiency-improving technologies.
The vehicle is expected to go on sale in the Canada and the U.S. in early 2013.