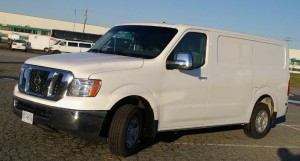 Introduced in spring, 2011, the Nissan NV (Nissan Van) Series started with a ground-up design—from its rugged ladder frame to the roof rack mounting brackets on the top of the innovatively conceived and styled body. Yet the all-new Nissan NV also has the advantage of Nissan's commercial vehicle heritage, covering 75 years and more than 75 per cent of the global commercial vehicle (CV) market.
"The new kid on the block, as it turns out, is also a long-time player in the global commercial vehicle market," said Allen Childs, president, Nissan Canada. "We bring a more than seven-decade tradition of durability, quality and reliability to our products. At the same time, we've taken a fresh look at every aspect of the CV business including styling, powertrain, interiors, cost of operation and ownership, dealership sales and service operations and, most importantly, real world customer needs."
The first production models in Nissan's new North American CV line-up are the 2012 Nissan NV1500, NV2500 (as shown) and NV3500. They are available with a choice of 4.0-litre V6 and 5.6-litre V8 engines and in two body styles, Standard Roof (all models) and High Roof (NV2500 and NV3500 only)—High Roof models offer stand-up walkthrough/work cargo area capability.
"We've invested more than five years researching the comfort, style and smart functionality demands that will enable business owners to accomplish more throughout their day," said Joe Castelli, vice president, commercial vehicles and fleet, Nissan North America.
The NV planning team employed a wide range of innovative customer research methodologies and met with large fleet owners and managers, small business owners, aftermarket suppliers and converters and rode along with owners of competitive vehicles.
"The NV is one of the most researched projects ever in the history of Nissan," said Castelli. "We touched the market at every point possible, with the findings reflected in every aspect of the final NV design."
Comfortable seating and standing
In developing the new Nissan NV, one of the overarching goals was to combine pickup truck-like comfort, interior amenities and drivability with a cargo van's capacity and security.
"Looking at the C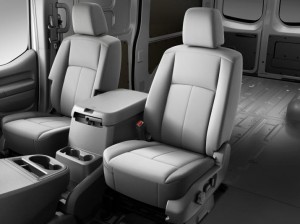 V market in recent years, there's been a migration of van users to light-duty pickups due to the lack of comfort, image and dependability of the current outdated van platforms," said Castelli. "Yet many of these truck owners admit they need a van for weather protection, security and the convenience of a tall roof van to carry large items or equipment. With the Nissan NV, [they get] the best of both worlds."
The Nissan NV interior starts with wide front doors for easy ingress and egress, supportive bucket seating with extensive adjustability, large armrests and a truck-like driving position with ample legroom and foot room. The available centre console (removable) provides a range of integrated storage features, while the fold-down passenger seat—unique to this vehicle segment—adds worktable functionality and enhances the cab's feeling of openness.
Another major contributor to the pickup-like cab is the absence of the traditional CV engine "doghouse" that intrudes into the cab due to the setback engine placement. The Nissan NV utilizes a conventional truck engine layout with the engine and transmission located ahead of the firewall/A-pillar. This not only frees up space under the instrument panel and between the seats, it also provides easy under-hood access to the entire engine for routine service and maintenance.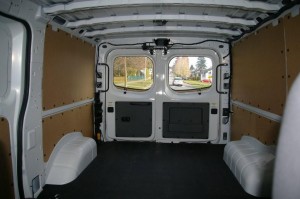 The NV's ample cargo area offers as much as 3, 820 millimetres of floor length (without the centre console) and 1,783 millimetres of maximum width. NV Standard Roof models offers up to 1,417 millimetres of cargo area height, among the tallest in class, while the NV High Roof provides a maximum 1,953 millimetres of cargo room height—enough for most users to move about the cargo area while standing up straight.
"Standard Roof NV models are designed to fit in most garages or go through most car washes and fast food drive-through lanes," said Castelli. "But for so many businesses, the added cargo capacity and the ability to stand up and work inside the High Roof NV will be a priceless enhancement to their everyday operations and productivity."
Functional and flexible layout
Storage pockets, spaces and compartments designed to provide secure access to the typical commercial customers' everyday-use objects, plus an under-seat drawer for small tools, stationary or first-aid kits and deep door pockets to fit flashlights, legal-size binders and clipboards are all useful additions.
"A commercial van must serve many more functions today, including acting as a mobile office for time spent on the road or at a job site," said Castelli. "We've made storage and productivity items integral to the design, rather than tacked-on afterthoughts. The result is a clean, practical and comfortable workspace for a wide variety of professions and businesses."
The NV also offers a full-length cargo area inner panel to protect the outer walls from dents and dings from the inside, and there are multiple weld-nut attachment points for shelving and racks, which require no sheet metal drilling. In addition, the NV's nearly vertical sidewalls maximize the usable cargo space, accommodating common aftermarket storage systems, as well as a bulkhead behind the driver.
Manufacturer's Suggested Retail Prices (MSRP) for the 2012 Nissan NV model range ranges from $30,998 – $36,978 for Standard Roof models and $34,988 – $39,668 for High Roof models. See your Nissan dealer for latest details and options or visit www.nissancommercialvehicles.com.