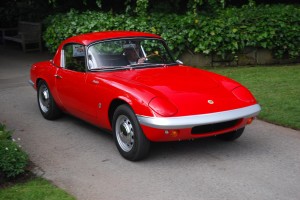 The Greatest Show on British Wheels staged each Victoria Day weekend in the magnificent VanDusen Botanical Garden, Vancouver is pleased to announce that it will pay special tribute to Lotus Cars and Norton motorcycles on Saturday May 19, 2012.
Lotus Elan, the car on which the Mazda Miata was modelled. 12,224 built (1962-1973).
60 years of Lotus
Mention the name Lotus and one name springs to mind: Colin Chapman, founder of the Lotus sports car company in 1952. As a racing enthusiast, his innovative engineering talents dictated that everything had to be made as light as possible to enhance handling and performance—a philosophy that is still some 60 years later at the heart of all Lotuses being built today. Since 1952 some 40 different models have been built, ranging from the first basic Lotus six to today's Evora 2+2 supercar.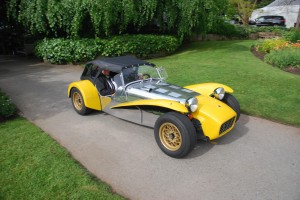 Lotus Seven, the racer for the road and an affordable model that could be bought in kit form. 2,477 true Lotus Sevens were built (1957-1972), with many cloned versions produced to modern day under a variety of brand names.
"On this 60th Lotus anniversary, we thank all Lotus owners who have shown their cars in the past and encourage them to spread the word to all Lotus owners in the Pacific Northwest to gather in 2012 for the anniversary celebration," said ABFM event co-event chair Patrick Stewart. "Featured Marque awards will be presented and the coveted event dash plaque and poster will feature Lotus."
110 years of Norton
In two-wheel class owners of Norton motorcycles will also be singled out for special Featured Marque recognition as the ABFM celebrates 110 years since the first Norton motorcycle was manufactured. The motorcycle display has become an established feature at ABFM as the interest in British-built motorcycles has grown rapidly and values have increased. Much of this is due to the dedication and hard work of the British Motorcycle Owners Society (BMOS) members who consistently put on a great display at ABFM and other shows.
1936 Norton Model 18.
Norton has a long and interesting history that includes a brief one-year connection to Vancouver in 1993 when local entrepreneur Nelson Skalbania made a failed attempt to revive the brand through a company named Norton Motors. In 2008, Norton was relaunched under its current ownership and continues to do well with its modern range including the popular re-cloned Commando machine. It will be exciting to see how many Nortons gather at this year's ABFM anniversary show.
A classic car garden party
In addition to the Featured Marque sports cars and motorcycles visitors can expect to see a huge variety of approximately 650 classics displayed in 62 manufacturer classes displayed on the Great Lawn of the beautiful VanDusen Garden, where the aroma of spring's blossoming flowers and plants will mingle with the rich bouquet of aging leather and fresh paint to invoke nostalgic memories of a bygone era.
If you own a British-built vehicle in any condition, we hope you will display it and join in the fun with fellow enthusiasts to stir up a few memories of the golden age of motoring.
The annual walk down memory lane takes place every Victoria Day Saturday (May 19, 2012) on the beautiful lawns of VanDusen Garden. The annual garden party is produced by the Olde British Classic Car Society (OBCCS), which encourages the understanding, appreciation and preservation of classic cars, vehicles and motorcycles for the enjoyment of their owners and the general public.
For more information, please contact Patrick Stewart at 604 644 9067
Email: pstewart@westerndriver.com