Website Combines a Suite of Tools Developed for Automotive Enthusiasts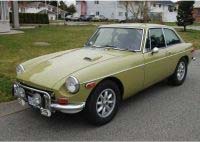 Hagerty has launched a complimentary new web service developed to help collectors better understand the classic car marketplace. "Collector Car Portfolio" joins two other Hagerty web tools—"Value Your Car" and "Market Trends"—and can be accessed at www.hagerty.com/valuationtools.
"Our goal with Collector Car Portfolio is to provide a one-stop-shop valuation center for classic car enthusiasts," said McKeel Hagerty, CEO of Hagerty Insurance. "Whether you're at an auction trying to better understand the value of a potential addition to your collection, or at home determining the performance of your portfolio versus the Dow, this tool is built to be a resource for collectors."
The project involved more than five years of research by Hagerty's team of valuation experts, and combines the following tools:
Collector Car Portfolio: A collector can create a portfolio containing their cars—or their dream garage – and the tool creates a chart showing how the group and the individual vehicles have performed during the past. The tool also enables one to track their portfolio against the value performance of the Dow Jones industrial average, S&P 500, Gold and NASDAQ markets.
Value Your Car: Simply input the year, make and model of a classic vehicle, and the site outputs a chart showing its current value and five year trend.
Market Trends: This tool displays the value of several Hagerty-created classic car indexes and can assist collectors in deciding when to buy, sell or hold from different genres of classics.
Hagerty is the leading insurance agency for collector vehicles in the world and host to the largest network of collector car owners.
Hagerty offers insurance for collector cars, motorcycles and motorcycle safety equipment, tractors, automotive tools and spare parts, and even "automobilia" (historic or collectible items linked with motor vehicles).
Hagerty also offers overseas shipping/touring insurance coverage, commercial coverage and club liability coverage. For more information, call (800) 922-4050 or visit www.hagerty.com.