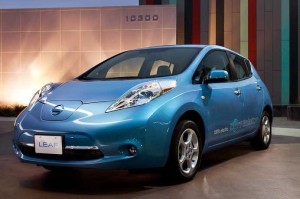 The 100-percent electric, zero-emission Nissan LEAF has been named 2011 World Car of the Year at this month's New York International Auto Show, edging out the BMW 5-Series and the Audi A8 for the top spot.
The award  is the latest in a string of accolades for the world's first affordable mass-market, all-electric vehicle for the global market, which was also named European Car of the Year.
The World Car Awards jurors observed that, "The Leaf is the gateway to a brave new electric world from Nissan. This 5-seater, 5-door hatchback is the world's first, purpose-built, mass-produced electric car. It has a range of over 100 miles on a full charge claims Nissan, takes around eight hours to recharge using 220-240V power supply and produces zero tailpipe emissions. Its low center of gravity produced sharp turn-in with almost no body roll and no understeer. The good news? It feels just like a normal car, only quieter."
The World Car of the Year competition was launched in 2004, with winners chosen by a panel of automotive journalists from Asia, Europe and North America.
Aiming to be the world leader in zero-emission vehicles, Nissan, with its Alliance partner, Renault, has formed partnerships with more than 90 governments, cities and other organizations around the world not only to develop and produce EV and lithium-ion batteries but also to promote sustainable mobility. Nissan is also taking a comprehensive approach to encourage to the world to more sustainable mobility such as improvement of charging service, infrastructure deployment, the promotion of the use of recycled materials and overall energy management system including second-life use of lithium-ion batteries.
The Nissan LEAF is currently available in Japan, the United States and select European markets. The vehicle is currently built at Nissan's Oppama, Japan plant.
It also will be manufactured at the company's Smyrna, Tenn., plant in the United States in late 2012 and at Nissan's Sunderland plant in the United Kingdom by early 2013.
The LEAF is expected to be Canadian dealerships in 2012.