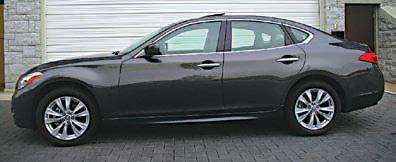 It's been 21 years since Infiniti started selling vehicles in North America and along the way the brand has matured and evolved into its own luxury marque, with global operations that include 230 dealers in 15 countries.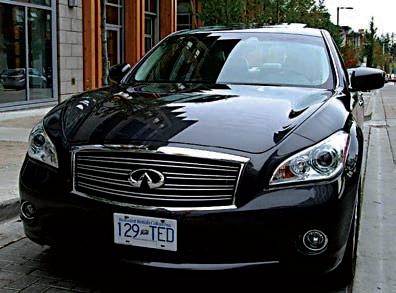 Leading manufacturers such as BMW, Audi, Mercedes-Benz and Lexus were seriously challenged in 2003 when Infiniti introduced the G35 model. The challenge continued as its Nissan roots were left behind and the Infiniti brand strengthened with the introduction of the beautifully engineered M35 and M45 sedans in 2006.
This year, the M37 and M56 have undergone the first major re-design and engineering of Infiniti's M-class since the 2006 introduction. The 2011-model Infiniti M gets a redesigned body with sportier proportions, a low front end and deeply sculpted fenders. The folks at Infiniti made it a specific point to draw attention to the fact that the new M has better overall proportions, being lower and wider, offering a more aggressive stance with it long hood and short deck—and it shows.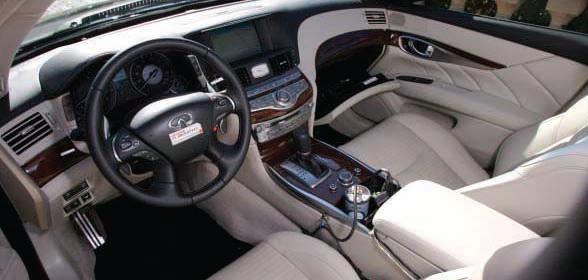 The fit and finish of the interior styling is pure Infiniti, with upgraded Japanese influenced design offering the best-in-class interior room and cargo space at 103.6-cubic feet. The cabin space flows beautifully, with curves and sculpted recesses trimmed in wood-and-leather to create one of the most attractive and luxurious interiors in its class.
No matter your needs or tastes, there are option packages to suit everyone, but if you buy the M56 model the following goodies are included: Navigation with 8-inch colour touch screen, heated/cooled front seats and a Bose 10-speaker two channel audio system. Air climate control, intelligent brake assist cruise and distance control assist, eco pedal and adaptive front lighting systems are also some of the options available.
The M56 has a brand new 5.6-litre double overhead camshaft (DOHC), variable valve event and lift (VVEL) direct-injected V8 engine that develops 420 –horsepower, with a maximum torque of 417 lb-ft, providing for an increase of 95-horsepower and 81 lb-ft over the outgoing M45. Mated to this wonderfully sporty, free-revving engine is a seven-speed automatic transmission with downshift rev matching, adaptive shift control with paddle shifters.
All models come standard with four selectable drive modes including normal, eco (optimizes settings for better fuel economy), sport (changes shift points for better performance) and snow (modulates throttle to limit wheel spin). Four-Wheel active steering and a sport –tuned suspension enable the near five-metre-long car to be very agile and manoeuvrable.
Infiniti plans to offer a hybrid version to be called the M35 Hybrid as a 2012 model-year vehicle. It will incorporate a single electric-motor/twin-clutch arrangement mated to a 3.5L V6 unit. The M35 Hybrid will carry a lithium-ion battery pack, which Infiniti claims has the ability to run on electric power under certain driving conditions.
Overall, the 2011 Infiniti M37 and M56 are a huge improvement over the outgoing models in terms of design, engineering, performance and overall luxury appeal. Manufacturer suggested retail price: Infiniti M37, starting at $52,400; Infiniti M56, starting at $66,200.