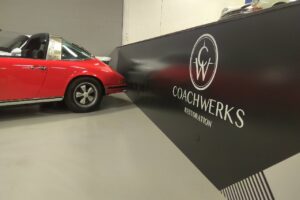 The classic car restoration business is arguably one of the most challenging and complicated businesses to manage successfully.
The restoration of an 'old' car, previously owned by several caring and, in many cases, uncaring owners, presents numerous challenges. These include experience, knowledge, skill, craftsmanship, innovative thinking, and, last but not least, working with a car owner who appreciates these challenges.
Rather than the restoration itself, the vehicle's owner can often provide the restorer with the most significant challenge!
One experienced restorer has it on record that he only accepts a project after getting to know the owner because: "I don't want to get a phone call in the middle of the night from an owner somewhere in Europe asking when his car will be ready."
The restoration of rare classics can take years to complete because of the intensive labour required and many of the original parts needing to be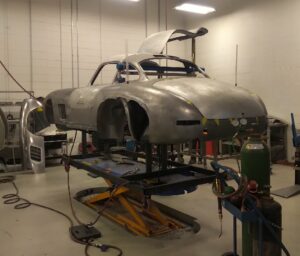 remanufactured.
Even with relatively simple classic components needed for vehicles like an MG TD or MG B, where all the mechanical and body parts are readily available, it can take up to 12 months to complete the work. So, understanding beforehand what the vehicle restoration entails will go a long way toward a happy and satisfactory ending for both owner and restorer.
At Coachwerks Restoration, Mike and Tracy Grams have seen and done it all over the years since they started the aptly named company in a Victoria, B.C., backstreet garage more than a couple of decades ago.
Since their merger with Victoria's luxury car dealer GAIN Group, their premises now consist of a modern, expansive, purpose-built building housing approximately 17 staff, with all the equipment needed to continue their fantastic craftsmanship.
Their original shop provided skilled bodywork for many vehicles restored by industry legend Rudi Koniczek of the world-renowned Rudi & Co.
Koniczek made his reputation for being one of only a handful of knowledgeable restorers of Mercedes 300 SL Gullwing and Roadster models. His restorations include the much-publicized Gullwing owned by the late Canadian Prime Minister Pierre Elliott Trudeau and now driven by his son, current Prime Minister Justin Trudeau.
Built on a spaceframe structure of small diameter tubes clad with aluminum and metal body panels, the 3-litre Mercedes 300 SL (Sport Light) supercars of the 1950s present quite a complex restoration challenge.
Having restored more than 100 of these iconic supercars and many other significant European and British classics, Coachwerks' skills, in collaboration with Rudi & Co (and more recently with the GAIN Group), have been recognized at many of the most prestigious international Concours events.
Coachwerks has also won local recognition at Vancouver's largest British classic car show, the annual Vancouver ABFM at VanDusen Garden, with one of their Austin-Healey 100 restorations winning the sought-after Debuting Restoration (Over $100,000 category) Class Award in 2019.
Additionally, in 2013 Mike Grams received the Vancouver ABFM's Lewie Award for Outstanding Contribution to the classic car industry. Of the previous 18 winners, Grams was the youngest to win the award.
On a recent shop visit, I had the privilege to view a stunning array of work-in-progress classics throughout the spacious shop floor, including no less than five Mercedes 300 SLs, two Gullwings and three Roadsters in various stages of repair and restoration.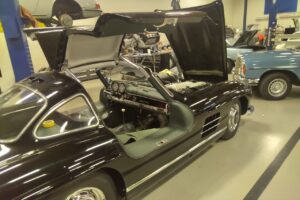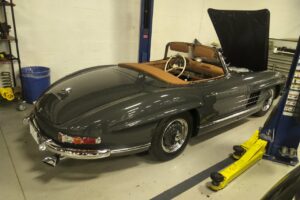 After what Grams described as "a challenging, two-year restoration," one of the Roadsters—stunning in appearance—was ready for shipping to its owner in Eastern Canada, having just completed a detailed, quality-control inspection and mandatory road test by Coachwerks staff.
It's not often you get the chance to gaze at the skeleton body shell of a 1952 MB 300 SL in one corner and the magnificent restoration of the same model just a few steps away.
At the January 2022 Scottsdale collector car auctions, a rare 1955 alloy-bodied MB 300 SL Gullwing—one of just 29 race-spec models—sold at RM Sotheby's for a jaw-dropping US$6.825 million.
By comparison, at a French auction in July 2018, an extremely desirable original, unrestored 1963 MB 300 SL Roadster, with only 1,372 kilometres on the clock, sold for a then-record US$5 million!
Touring the Coachwerks shop floor, vehicles ranging from the 1940s to the late-1980s provide a veritable feast for the eyes. I admire a red Ferrari Dino in the sales area, a black 1965 E-Type Jaguar with a timing chain sprocket problem nearby. A few steps away, a 1949 Jaguar XK 120, in the latter stages of bodywork, and a contrasting VW Minibus stand ready for the paint booth. The citrus-green shell of a freshly painted BMW Isetta Bubble Car awaits its transplanted mechanicals. A lovely Jensen Interceptor and Porsche 356 keep company with a bright-green Triumph Spitfire that is in for some mechanical work. A red Porsche Targa and silver-blue Mercedes 300 SEC await new owners in the sales area, where a 1993 Mercedes 500E and an immaculate 1989 Jaguar XJS V12 have been sold.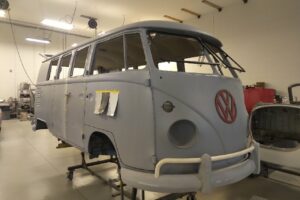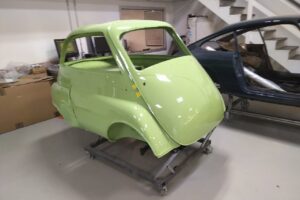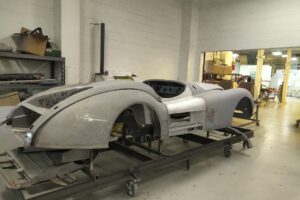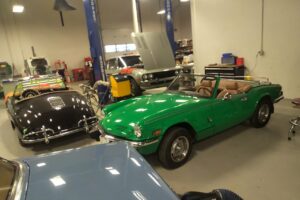 Other modern luxury cars and SUVs from the GAIN Group's new car dealerships share an area of the Coachwerks' restoration building, looking somewhat mundane (to my eye) compared to the treasure trove of beautiful classics surrounding them.
Collector car owners face ever-increasing challenges: reduced parts supplies, diminishing restoration and repair shops, and the ageing-out process of retiring owners and their experienced staff—the last remaining artisans (don't call them technicians) qualified to work on these historic vehicles.
With these challenges and escalating environmental issues pressuring the industry, the collector car community needs to do more to encourage the younger generation to be part of preserving our automotive history and culture before politicians legislate treasured classic vehicles off the road forever.
It is encouraging to see a modern, new-car dealership like the GAIN Group leading the way with their successful development of Coachwerks Restoration.
STORY & PHOTOS: Patrick Stewart