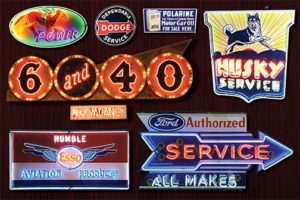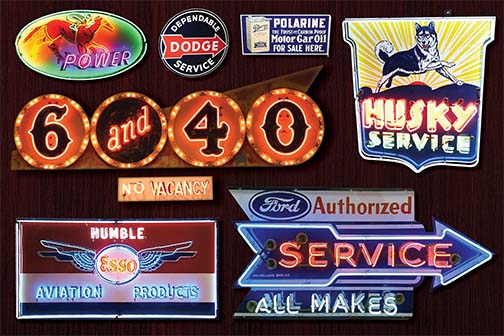 Barrett-Jackson, The World's Greatest Collector Car Auctions, will offer more than 1,100 genuine automobilia items with No Reserve during the Scottsdale Auction at WestWorld of Scottsdale, March 20-27, 2021.
The highly coveted collectibles offered during the Automobilia Auction, which will cross the block daily beginning Monday, March 22, 2021, include more than 60 original neon porcelain signs, more than 35 beautifully restored gas pumps, and many fine items from the Larry Winkler and Laguna Euro collections.
"Automobilia has become a critical part of the collector car hobby over the last decade," said Craig Jackson, chairman and CEO of Barrett-Jackson. "When demand for authentic automotive art and décor took skyrocketed in the early 1990s, we were the first to respond with a dedicated automobilia auction. Today, the quality of automobilia like pieces found in the Winkler and Laguna Euro collections are coveted by collectors worldwide."
Included in the 1,100-item offering at the Barrett-Jackson Automobilia Auction will be more than 400 pieces from the Larry Winkler Collection. Among the authentic collectibles in the collection are more than 20 original neon signs, 10 original kiddie rides and approximately 15 restored gas pumps, as well as hundreds of pieces from auto dealerships and soda-related collectibles.
"A world-class range of automobilia will cross our block in Scottsdale next month," said Rory Brinkman, Automobilia Director at Barrett-Jackson. "One piece that is sure to draw attention is Lot #9493, a large 1940s Humble Esso Aviation single-sided neon porcelain airport hangar sign with animated wings. We'll also have a beautiful, 12-foot 1950s Ford A1 Used Cars and Trucks double-sided porcelain neon dealership sign (Lot #9491)."
Another Automobilia Auction highlight will be approximately 30 pieces from the Laguna Euro Collection. Many of the rare items feature European sportscar brands, including Ferrari, Maserati, Lamborghini and Alfa Romeo. Among those crossing the block in Scottsdale is a near-impossible-to-find late 1960s Lamborghini Service Porcelain Sign (Lot #9352) that is in excellent condition.
Click here to become a registered bidder at the Barrett-Jackson March 2021 Auction, or click here to consign a collector vehicle. To purchase tickets to the event (available online only), click here. Join Barrett-Jackson's online conversation on Facebook, Twitter, Instagram and YouTube #BarrettJackson