By Steve Blake
The Ferrari Portofino has at times been misaligned as an "entry-level" Ferrari. This term was coined simply because the car has the lowest price point in the Ferrari line. I would say the Portofino is so much more than an entry-level car and more of a Grand Tourer that would compliment an owner's stable of luxury cars. It is the car of choice once you are no longer doing track days but still enjoy the power, handling and performance of an exotic car. When the thrill of racing is replaced by mature road drives, the Portofino is the ideal choice.
I have owned a Ferrari 360 Modena, two Lamborghini Gallardos, and a Lamborghini Huracan Spyder. All were great cars and built in a time when reliability with exotic sports cars is expected, not just wished for. Over the 12 years I owned these cars, I was never let down. They always started right away, never suffered breakdowns, and never had need for a service other than the yearly required one. Well, there was one misfiring issue after we shipped our car to Italy and filled it up at a questionable service station in Milan. The Lamborghini technicians accompanying us confirmed there was nothing wrong with our car and it was probably bad gasoline. After we refueled we had no more issues. My cars only had one factory recall, for the folding roof latch on the Huracan. Owning these cars was like having Toyota reliability but just with a larger yearly service bill.
There were, however, a couple of issues I found with the ownership of these cars. First, with all of them being mid-engine design, they have limited space for storage.  Porsche managed this problem nicely with the 718s. They have a trunk and a front trunk or "frunk". The frunk is deep enough that you can sit in it. For other manufacturers, it is challenging when you are building a racing-capable car. You cannot be everything to everybody. Storage space has to be sacrificed for size, lightness, balance, and the positioning of components needed with the larger engines. For me, the second issue is comfort on long distance drives. The earlier cars had seats with few ergonomic adjustments and the Huracan Spyder sacrifices seat slide for rear bulkhead space. This means that smaller drivers can be quite happy but taller drivers have to make accommodations. I had to move the seat to its furthest rearward point and then sit with a more upright seatback. I needed a couple more inches in order to be completely comfortable. After an hour of driving, I would feel some discomfort.
Last June, Ferrari Vancouver hosted a Ferrari Experienza where they brought along several Ferraris for guests to test drive. The location was at a house for sale in West Vancouver on a street leading to the road to Cypress Bowl. This gave us ample opportunity to try the cars on a twisty road with hairpin turns and a steep grade. I took the opportunity to try Ferrari's new Portofino. Eric Chan, from Ferrari, showed me the car after which I drove the road to the top of the Bowl. I was very impressed with the feel of the Portofino.
The Portofino is a coupe/convertible. Ferrari designed this car with a solid aluminum alloy roof that folds neatly back into the trunk. For us on the West Coast, this gives more comfort in the rain or on colder days. It also cuts outside noise more than with a cloth top. You also don't have the problem of cloth fading or deteriorating.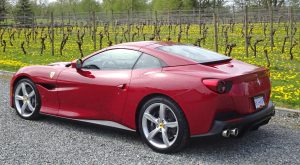 The performance for the Portofino is superior to the top end exotics from a few years earlier. The car rates 600 metric or 591 horsepower compared to the Huracan's 610 metric or 600 horsepower. This is greater than the Ferrari GTO (302 hp), Testarosa (385 hp), F430 (490 hp), F458 (562 hp), Lamborghini Countach (455 hp), Murcielago (350 hp), and the Diablo (485 hp). The Portofino has 561 foot-pounds of torque to the Huracan's 413 foot-pounds. Both cars have great handling, to the limits I was able to drive on a public road. I expect the Lamborghini to be superior on the track but that was not its purpose for me. I have enjoyed my track days and now desire a sporty drive through winding mountain, country or coastal roads. With my wife along, passenger comfort is important. If your partner does not feel comfortable in your car, you will probably not get approval to take it on longer journeys. You will be relegated to your SUV or some other less sporty vehicle.
I drove the Ferrari 599 HGTE several years back and note it had similar horsepower and was also a front-engined car. Like this car, the Ferrari Portofino is a Grand Tourer. You could quite easily throw your bags in this car and drive across the country. The Portofino has a slightly higher profile than the mid-engine cars, necessitated by the driver having to see over the twin-turbocharged V-8 in the front. Ingress and egress is much easier in the front-engined cars and the slightly higher seating gives you a better view of the road.
Storage capacity is certainly adequate. There is a trunk that will take three airplane-cabin roll bags or two when the top is down. The rear seats are useable only if you sacrifice some of your front seat leg space. As with most sports cars fitted with these kinds of seats, they are seldom, if ever, used. The seats are there mostly to meet regulations of countries that discourage two-seater cars by charging them large taxes. Fortunately, you can order the back seat rest to fold down creating a shelf capable of hold shopping, cases of wine, or allow golf clubs in the trunk to fit through into the cabin.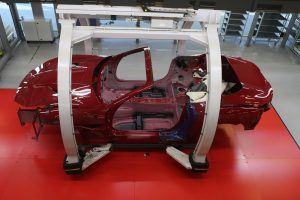 With two thumbs up from my better half, I put an order in for a 2020 Ferrari Portofino in September. My car would be finished built by February and delivered to me by April. The winter months are not really conducive to driving exotic cars, so in this down time, it was nice that Ferrari kept my anticipation growing by sending photos of the car under construction. Finally, Eric Chan phoned me to say my car had arrived. We could pick it up on Thursday, April 16th, after they had finished prepping and doing the pre-delivery inspection.
Because of the Covid-19 crisis, we were lucky to have had our car built just prior to the factory shutdown. When I was told the Portofino had arrived in New Jersey and would take two weeks by truck to get to Vancouver, I assumed that was the car's 14-day isolation period! We arrived at the dealership wearing our Covid-19 masks and doing the appropriate social distancing. We were offered champagne to celebrate the Portofino's arrival. We declined due to the fact that we were both driving home. We were kindly sent home with a bottle of Champagne instead. With excitement building, we pulled the cover off our Rosso Mugelo-coloured Portofino and were not disappointed. The rich, deep red is perfect for this car and complimented with the Bordeaux leather interior.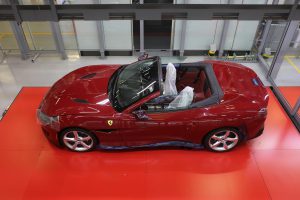 After getting a refresher on all the controls of the Portofino and reminded of the 7-year free maintenance package it comes with, we set about doing the paperwork and attaching my license plates.  The car was on the third floor of the Ferrari Vancouver showroom so I chose to have Eric negotiate the tight turn into the auto elevator and take the car down to street level for me. The Portofino is a large sports car and I didn't want to take any chances on my first drive.
The Ferrari Portofino is turning out to be an exceptional car and we are looking forward to the end of the Covid-19 crisis so we can enjoy the car as we explore the open road.