Lotus has integrated some of the latest design philosophies from high-performance stablemates including the Exige Cup 380, and the mighty Evora GT430, as well as building upon the track and competition only Elise Race 250 to produce the extreme limited-edition Lotus Elise Cup 260.
Setting a standard for outright track pace and low lap times, this ultimate Elise has been unveiled as the company prepares for the 70th anniversary of when founder Colin Chapman built his first car in 1948.
Referencing Lotus' motorsport successes, the new Elise Cup 260 has a laurel wreath decal on the left buttress and the Union Jack on both the rear wing end plates together with the option of finishing the car in iconic Championship Gold.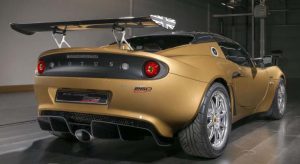 Building on the production Elise Cup 250 released earlier this year and drawing heavily on the development the motorsport Elise Race 250, the Elise Cup 260's performance is formed through a combination of engineering and advanced aerodynamics, as well as a boost in engine performance.
Not only the lightest ever Elise Cup, it's also the heaviest at speed—with the car's design and aero configuration generating up to 180-kilograms of downforce at 151 mph. Key to this exceptionally elevated level of downforce are new louvred front wheel-arch vents, lightweight carbon fibre front splitter and wide high mounted rear wing.
The Elise Cup 260 includes nearly all the lightweight Elise Cup options as standard, ranging from the sill covers, roll hoop cover, front access panel and engine cover, which are all in carbon, to the two-piece brake discs.
With a race chassis developed by Lotus Motorsport, two-way adjustable Nitron dampers—fitted to an Elise for the first time—a polycarbonate backlight glass and hand-trimmed interior with bespoke detailing, the Elise Cup 260 is being called the ultimate Elise.
The all-alloy, charge cooled supercharged 1.8-litre engine has undergone development, with new induction components and revised calibration. Delivering 250-horsepower and 255 Nm of torque it's mated to a six-speed manual gearbox with sports ratios.
Providing its trademark handling and steering feel, the Elise Cup 260 features fully independent double wishbone suspension with an adjustable front anti-roll bar, with Nitron coaxial coil springs and, for the first time on an Elise, adjustable Nitron high-performance dampers. With 24 settings for rebound and compression, the dampers allow owners to dial-in the car's setup to their preference.
As standard, the Elise Cup 260 comes with ultra-lightweight motorsport forged alloy wheels (16-inch at the front and 17-inch at the rear) and are fitted with Yokohama Advan Neova AD08R tyres (205/45 R16 front & 235/40 R17 rear), specifically developed for high performance track and road use. Braking is provided by AP Racing twin-piston front calipers and Brembo at the rear, which are perfectly matched to the lightweight two-piece brake discs.
For more information, visit lotuscars.com/about-elise.