A total of 835 votes were cast over the month-long, online campaign in which entrants voted for their Top 5 sports cars from a pre-selected listed of 12 British sports cars:
• Jaguar XK150
• Austin-Healey 3000
• Morgan Plus 8
• Sunbeam Tiger
• Bugeye Sprite
• TVR Taimar
• Lotus Elan
• Triumph TR6
• Triumph TR3
• MGA
• MGB
• AC Ace
The official draw from all entries was made on April 30 for a sponsors' prize package valued at $500.
The winner of the draw is Triumph owner Trish McAuley.
The winner receives an Autoglym Detailing kit, 4 ABFM VIP Passes for 8 people to attend the Saturday May 20 British Classic Car Show at VanDusen Garden and a $125 Gift Certificate for use at Wilkinson's Automobilia.
Thanks to all who voted in this year's ABFM Best Brit Sports Car campaign and also to our sponsors: Hagerty Collector Car Insurance;
Autoglym Detailing Products;
Classic Car Adventures;
Vancouver ABFM; and
Wilkinson's Automobilia.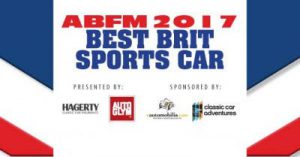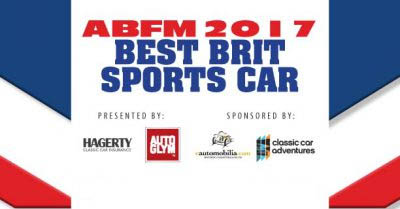 The votes have been tallied on this year's Vancouver All British Classic Car Show's campaign to determine the most popular British sports car and the winner by only nine (9) votes is the beautiful Austin-Healey 3000. Second was Jaguar's XK150 model and third, with 30 votes short of the Austin-Healey, was the very nimble Sunbeam Tiger.