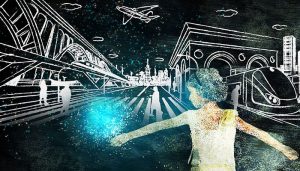 Business magnate, investor, engineer and inventor Elon Musk has announced a futuristic vision of transportation involving underground roadway systems beneath bustling cities such as Los Angeles.
The venture that will make it all happen, called 'The Boring Company', will rely on a vast network of tunnels (hence 'boring') and has been dubbed "amazing and impossible" by commentators.
A brief concept video posted to YouTube shows a flash red Tesla vehicle amidst gridlocked traffic. The 'game changer' appears in the form of a futuristic metal elevator that lowers the Tesla underground to a road network in which individual cars are transported at high speeds on metal trolley-like platforms between destinations—doing away with traffic and associated collisions.
As with most radical innovations, science fact may once have been science fiction.
Global engineering and infrastructure advisory company Aurecon is currently working on a multitude of city-shaping tunnel projects designed to see communities transformed as they help enhance their connectivity and liveability.
Aurecon's projects include a transformational Metro Tunnel project in Melbourne, Australia, featuring two nine-kilometre tunnels and five new stations added to the city's underground rail network; nine-kilometre-long twin tunnels in Sydney, Australia; and a 3.4-kilometre underground rail line in Auckland, New Zealand, consisting of twin-driven tunnels.
"Musk's futuristic tunnel system is ambitious and innovative," said Tom Ireland, Aurecon tunnelling expert. "Going underground makes sense and many cities have vast tunnel networks beneath heavily populated areas, for example, the London Underground—so we know it can work. His vision presents an exciting alternative to our gridlocked present."
Traditionally, tunnels are designed to integrate a large amount of safety equipment. Musk's proposal, in which cars are propelled forward by electric trolleys, is designed to render much of this safety equipment unnecessary.
The absence of the risk of petrol and diesel vehicle emissions, the autonomous control of the vehicles and the need for increased power supply for such a network represents a paradigm shift in terms of the design of tunnels. In addition, specialized electronic equipment, such as high speed trolleys, will need to be designed and tested as well as corresponding intelligent control equipment/systems.
Reduced tunnel size will also reduce costs and speed up construction – all of which highlights a need to rethink traditional design.